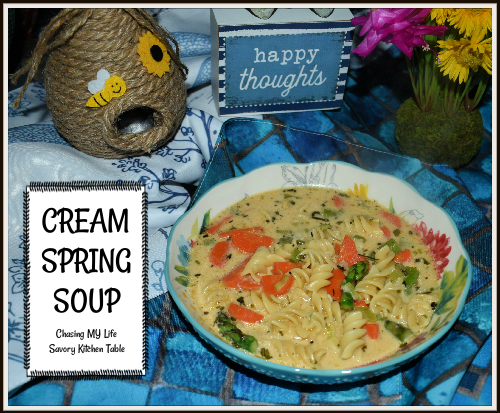 CREAM SPRING SOUP
2 cups chicken stock
4-6 asparagus spears, trimmed and cut into 1 1/2 inch pieces
1 large carrot, peeled and diced
1 celery rib, cleaned and diced
2-3 green onions, sliced
1 clove garlic, minced
1 tablespoon FRESH chopped chives
1 teaspoon FRESH chopped rosemary leaves
FRESH ground sea salt and black pepper
1 teaspoon mushroom umami herb (I get Simple Organics at Kroger)

Combine the above ingredients, bringing to a SLOW boil.

Reduce heat and simmer 5-10 minutes until vegetables are tender.
1 cup cooked macaroni
1/2 cup heavy cream or 1 SMALL can of evaporated milk

Stir in heavy cream and macaroni, heating through.