Ever wondered what the difference is between a soup, a stew and a chowder?
A soup is usually made with stock or broth and can have vegetables, meat or fish as ingredients and is generally not very thick.
A chowder may have the same ingredients as a soup or even a stew, but is more chunky, creamy and thick. It is often prepared with milk or cream and thickened with broken crackers, biscuits, or a roux. A chowder is also usually made with fish and corn.
A stew is committed by sweltering in a covered pot.
When I make bone broth I use the carcass of the rotisserie chicken and often use whatever vegetables I have around in the bin that a wilted or such. This time I used a bone broth made with end of the season tomatoes which added a GREAT flavor to the chowder.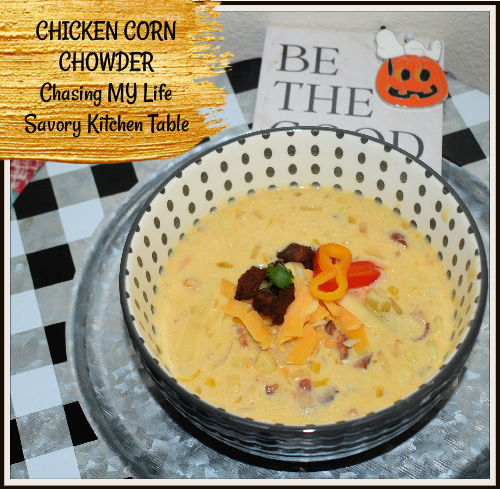 CHICKEN CORN CHOWDER
4 tablespoons butter
1/3 pound bacon, diced
1 LARGE yellow onion
3-4 cloves garlic, FINELY minced
3 stalks celery, halved and thinly sliced
1 LARGE carrot, diced
3-5 small mini peppers, sliced thin
3 cups FRESH or frozen white corn
2-3 cup diced rotisserie chicken pieces
3 1/3 cups chicken broth (preferably homemade bone broth)
FRESH ground sea salt and black pepper
3 tablespoons cornstarch
1 1/2 cups half and half
3 cups grated cheese of choice (I used FACE ROCK sharp cheddar)
Frank's Original Hot Sauce, optional – see note
Melt butter in large stock pot.

Add onion, carrots, celery and garlic, sauteing 5 minutes or so until carrots are starting to soften.

Add bacon and continue to saute 10 minutes until bacon is browned.***

Add peppers, corn and 3 cups of the chicken broth, bring to a simmer10-15 minutes.

Season to taste with FRESH ground sea salt and black pepper.

Whisk the remaining chicken broth with the cornstarch until smooth.

Add roux to pot and blend in well. Simmer a few minutes more.

Add half and half, stirring well.

Add cheeses and stir to melt.

Fold in chicken pieces and simmer 5-10 minutes more.

Season to taste.

Serve.
***NOTE:
If bacon has a high fat content, trim some of the fat off to prevent your chowder from becoming too greasy.

A splash or two or three of Frank's original hot sauce can really amp up this chowder.