This recipe was originally made with chicken thighs, but breasts always make for a fancier dish, especially when you call it Company Chicken! You'll notice that I don't list sea salt in the list of ingredients. That's because the liquid aminos will add more than enough salt.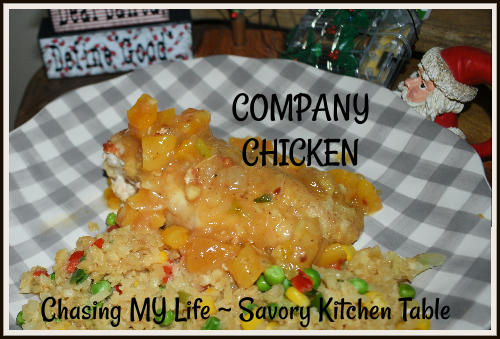 COMPANY CHICKEN
4 boneless, skinless chicken breasts
FRESH ground black pepper, to taste
1/3 cup WONDRA flour
2 tablespoons avocado oil
1 LARGE Vidalia onion, sliced thin
1/8 cup Bragg's liquid aminos
1/3 cup Smuckers apricot jam, PUREED to remove chunks
1 LARGE clove garlic, FINELY minced
1-2 pinches crushed red pepper flakes
1/4 cup FRESH orange juice
Preheat oven to 350°.
Season chicken breasts generously with FRESH ground black pepper.
Dredge the seasoned breasts in the flour and set aside.
In a cast iron skillet heat avocado oil over medium heat.
Sear the chicken 2-3 minutes per side and then set aside.
Add onions to pan until they are caramelized.
Nestle the chicken into the top of the onions.
Whisk together the liquid aminos, apricot jam, orange juice, garlic and red pepper flakes.
Pour the sauce over the chicken and onions.
Bake uncovered 30-35 minutes. The sauce will thicken and get sticky. But, if it gets too brown too fast cover with a piece of foil.