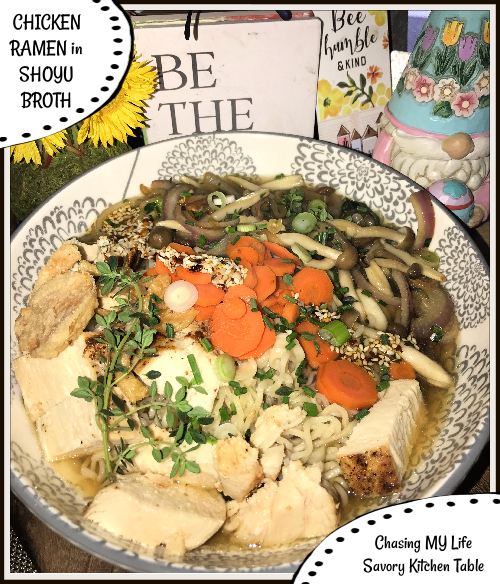 CHICKEN RAMEN IN SHOYU BROTH with MUSHROOMS, CHILI GARLIC OIL & CRISPY ONIONS adapted from a Hello Fresh recipe

2 cloves garlic, minced
1 thumb ginger, peeled and minced
1 tablespoon sesame seeds
1 teaspoon red chili flakes
2 tablespoon Bragg's liquid aminos
5 ounces FRESH Spinach (optional)
3 LARGE green onions, sliced thin, whites and greens separated
2 carrots, peeled and sliced thin
1 tablespoon chopped lemon thyme leaves
8 ounces BEECH mushrooms
1 tablespoon sesame oil
6 ounces ramen noodles
4 cups homemade chicken stock
2 LARGE chicken breasts
Crispy fried onions
2 tablespoons avocado oil
FRESH ground sea salt and black pepper, to taste
Bring a large pot of salted water to a boil. Wash and dry produce. Peel and mince garlic.

In a small microwave-safe bowl, combine sesame seeds, half the garlic, half the sesame oil (you'll use the rest later), a drizzle of avocado oil, a big pinch of salt, and chili flakes to taste. Cover bowl with plastic wrap. Microwave until fragrant, 30 seconds. Set aside.

Once water is boiling, add noodles to pot. Cook, stirring until JUST tender, 1-2 minutes. Drain, then toss noodles with a drizzle of sesame oil.

Heat a drizzle of oil over medium-high heat.

Add scallion whites, ginger, and remaining garlic. Cook, stirring, 30 seconds.

Stir in chicken broth and soy sauce. Bring to a boil, then cover and reduce heat to low. Simmer until ready to serve.

While broth simmers, pat chicken dry with paper towels; season with salt and pepper.

Heat a large drizzle of oil in a large pan over medium-high heat.

Add chicken and cook until browned and cooked through, 3-5 minutes per side.

Drizzle with remaining sesame oil and turn chicken a few times to coat.

Transfer chicken to a cutting board to rest.

Add mushrooms and a pinch of salt to pan used for chicken over medium-high heat. Cook, stirring occasionally, until browned and softened, 3-5 minutes. Transfer to a plate.

Add a drizzle of oil to pan, then add spinach if using. Cook, stirring occasionally, until wilted, 2-3 minutes; season with salt. Turn off heat.


Slice chicken crosswise.

Divide noodles between large soup bowls. Pour some broth over noodles.

Stir in as much chili garlic oil as you like.

Top each bowl with chicken, mushrooms, spinach, and scallion greens.

Sprinkle with a few crispy onions and serve.