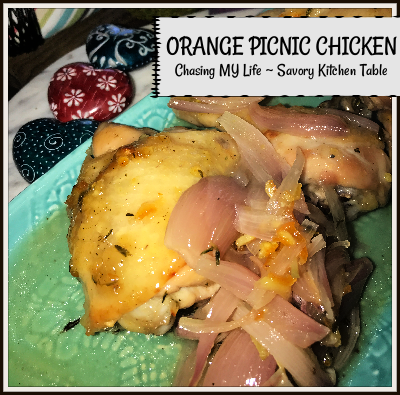 ORANGE PICNIC CHICKEN
3 – 3 1/2 pounds PICNIC chicken (legs and thighs)
1/2 cup orange marmalade
1 tablespoon champagne vinegar
1 tablespoon avocado oil
1 tablespoon FRESH chopped thyme or tarragon leaves
FRESH ground sea salt and black pepper
4-6 LARGE shallots, halved and sliced lengthwise
Preheat oven to 425°.

In a large bowl whisk together the marmalade, oil, vinegar, tarragon or thyme,

FRESH ground sea salt and black pepper.

Add chicken pieces, tossing to coat.

LIGHTLY spray a roasting pan with non-stick cooking spray.

Sprinkle shallot pieces in the bottom in a single layer.

Nestle chicken pieces in amongst the shallots.

Drizzle any remaining marmalade mixture in amongst the shallots.

Roast 25-35 minutes until shallots are tender and chicken is cooked through and golden.