A couple years ago before COVID and again this year we went to HOLIDAY LIGHTS at Shore Acres on the Oregon coast. It doesn't change in layout so it's NOT an EVERY year thing. At least this year it didn't rain but that made it bitterly cold! ALL of our travel is "AROUND" Christmas and never ON Christmas. The first time we arrived fairly early, just before dusk so we could walk through and get the lay of the land before walking through a second time after dark. This time they had "reserved" times only so we couldn't do that. The displays are animated and themed.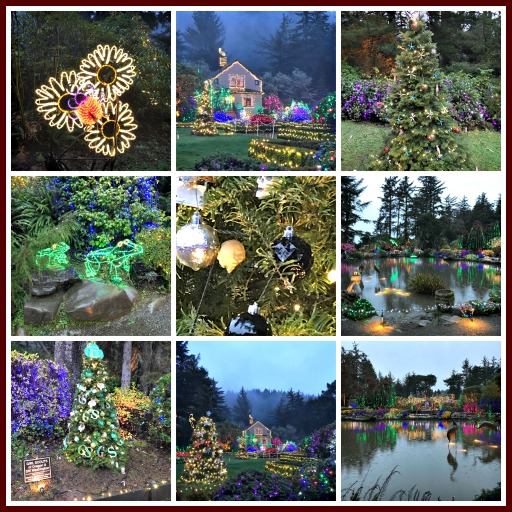 Shore Acres is literally perched on a cliff above the Pacific Ocean and began as a private estate for Louis J. Simpson, a shipbuilder. Simpson developed the 3 story mansion complete with an indoor heated pool and ballroom as his "summer home". The surrounding grounds included 5 acres of formal gardens full of shrubs , trees and flowering plants brought from around the world by himself and various lumbermen. There is even a 100 foot lily pond and caretaker's cottage. The cottage still stands and was really decorated cute! I'd live there. I really wish I had seen the original mansion, but it has since been torn down after a fire in 1921 and the rebuild was never finished because of the depression and fell into disrepair. Oregon bought the property in 1942 for use as a public park. The gardens, lily pond and caretakers cottage were restored while the mansion was razed.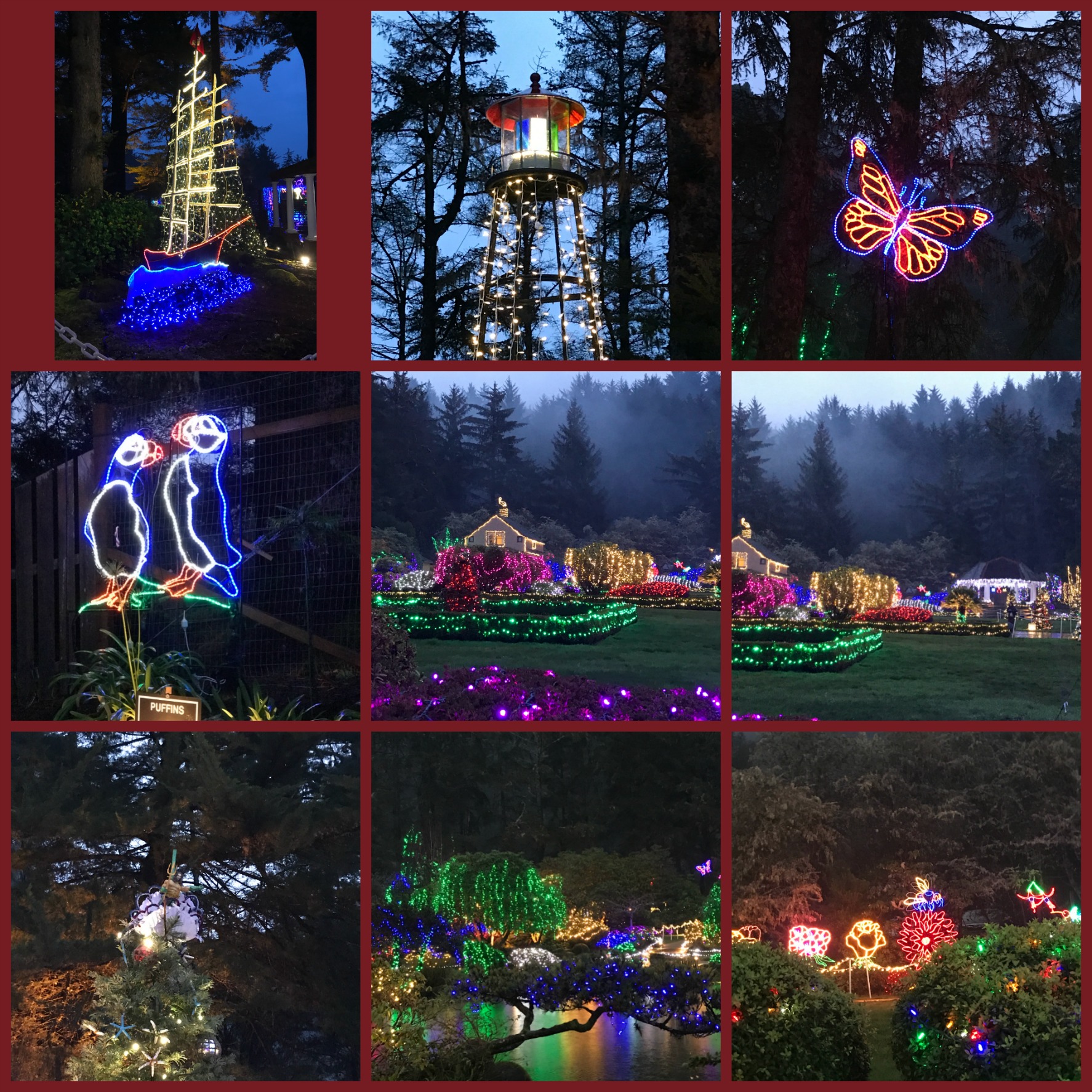 Shore Acres Holiday Lights is by decorated sponsors and volunteers. This is an Annual event, but they did miss a couple of years during COVID and is famous for its beautiful 7 acre botanical gardens and Japanese lily pond on the Oregon coast among the trees. It has over 350,000 lights, animated displays, Santa, choirs… A beautiful holiday tradition for the whole family.
Even on the years we travel to SIL's party, we are home by Christmas itself. I love having our tree and decorations with a relaxed Christmas Day schedule. We do try and take 1 trip to see some sort of "City Sidewalks" type event.
These are a few of my favorite pictures from our trip to Holiday Lights at Shore Acres on the coast. We took some time to play in a couple of the small towns and stayed over so we didn't have to drive the windy roads late at night in the rain. We were fortunate to be able to have lunch with an old friend to catch up the next day before we drove home. It's a walking tour and it was COLD as all get out, but ALSO really beautiful.

2013 was the year of the "white" one

😀 was the first truly white Christmas we had here. I have

HIGH

hopes for this year, but there is a storm moving in that appears to be a bit warmer so it may just be a WET one instead of a WHITE one 🙁

Hubby made this for me to wake up to in the back yard before the snow got too bad that year.
The house across the street that usually looked horrible back then, but

NOT

when it was under a beautiful blanket of snow. We are looking forward to the "new" neighbors who recently purchased it though as they appear to be making some rather nice updates while it sits vacant. So we will see.
Unfortunately, being in a cul-de-sac, delivery tracks leave

MANY

tire tracks at this time of year to mar the beautiful snow cover.
The fish ladder was like glass with the cold and ice.
The following pictures are from 2014 and one of my favorite picture years. The Festival of Lights is now 30 years old and a great way to kick off the holiday season. It's an ALL Volunteer and NON-Profit.  It began as a fundraiser sponsored by the Rotary Club to help get the city out of debt and then took on a life of its own and now helps with scholarships and special projects. The festival runs every night from Thanksgiving to New Years. So if you have company in town for Thanksgiving it's a great way to jump start to your holidays. You can drive your own car or take a horse drawn carriage ride through the displays. They have also coordinated a local radio station to listen to as you view the displays. The night we went through the fog was moving in early so a few of the pictures look a bit "smoky".They have the world's tallest (41 feet, 16,000 pounds with a working jaw) nutcracker built by a local company, 500,00 lights, 90 animated displays, 3D displays, horse drawn carriage rides through the displays and a Holiday Village with Santa, hot cider with a bake sale and a synchronized light show in the courtyard. The displays depict fairy tales, the military, patriotism, the local logging industry, local vineyards, local fishing and the traditional Christmas songs and scenes. People come from all over to see it. Unfortunately for locals, it doesn't change much, but is still fun every few years.