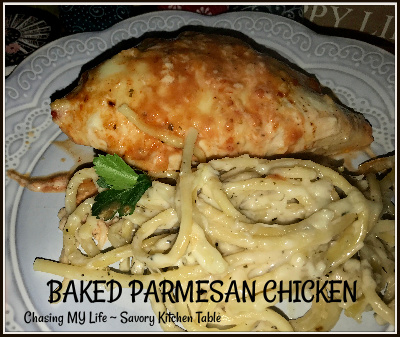 BAKED PARMESAN CHICKEN
4 boneless skinless chicken breasts
1/2 cup mayonnaise
1/2 cup grated Parmesan cheese
2 cloves garlic, minced
FRESH ground sea salt and black pepper
1/3 cup FINELY shredded Mozzarella cheese
1 cup Marinara sauce
Preheat oven to 375°.  

Wash and dry chicken.

Spread marinara sauce in LIGHTLY greased 9×13 baking dish.  

Combine the remaining ingredients into a paste.

Spread the paste evenly on the chicken breasts.  

Bake uncovered for about 30 minutes or until the chicken is cooked through.

Top with Mozzarella cheese and bake 5-10 minutes more until the cheese is golden brown.

Spoon desired amount of sauce over chicken before serving.
Originally posted 6-1-2012 ~ Updated 4-7-23