Several of my "new to me" recipes are courtesy of my friend Diana's mom and grandma's recipe boxes. This recipe 45 years old and was from her aunt, Carol Booth in 1978. I made only slight alterations to bring it into the 21st century.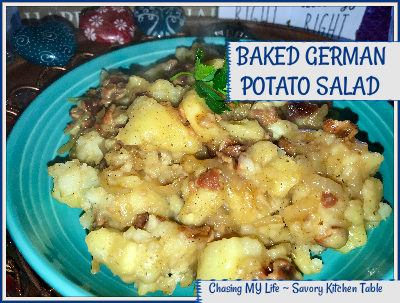 BAKED GERMAN POTATO SALAD
2-3 pounds red potatoes; cooked tender, peeled and diced or smashed
2 sweet Vidalia onions, chopped
8 strips bacon; cooked crisp and crumbled – reserve 2 tablespoons of drippings
3/4 cup brown sugar
2/3 cup water, divided
1/3 cup vinegar
1/3 cup sweet pickle juice
1 tablespoon FRESH chopped parsley
FRESH ground sea salt and black pepper, to taste
1/2 teaspoon celery seed
2 tablespoons WONDRA flour
Preheat oven to 350°.

Layer potatoes into an ungreased 2 quart baking dish.

Saute onions in reserved bacon drippings until tender.

Stir in brown sugar, 1/2 cup water, vinegar, pickle juice, parsley, salt and celery seed. Simmer 5-10 minutes.

Whisk together remaining water and cornstarch until smooth. Stir into onion mixture.

Bring to a SLOW boil, cooking 2-3 minutes until thickened.

Pour over potatoes.

Fold in bacon gently.

Bake uncovered 30 minutes.