Another "vintage" recipe from my friend's grandmother's "antique" recipe box. This type of recipe was once a staple of the working mother in many American households. I believe it was originally found on the back of a Campbell's soup can label. I also adapted her recipe "slightly" to add a bit more flavor and texture. Quite a tasty and crunchy satisfying meal. 😀 I made this in honor of my late brother-in-law. He would have LOVED this casserole. Today would have been his birthday.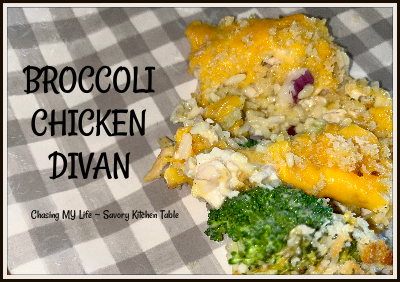 BROCCOLI CHICKEN DIVAN

2-3 small broccoli crowns, trimmed, cut into florets and rinsed
1 1/2 cups rotisserie chicken pieces
1 can Campbell's broccoli cheese soup
1/3 cup milk
1/2 + 1/2 cup grated sharp cheddar cheese
FRESH ground sea salt and black pepper, to taste
1/3 cup small diced red onion
2 cups prepared rice
2 tablespoons butter, melted
3 tablespoon Panko bread crumbs
Grease a shallow 2-3 quart baking dish.

Preheat oven to 375°.

Blanch broccoli florets 3-4 minutes in boil water, drain WELL and set aisde.

In a large bowl whisk together the milk and condensed soup until smooth.

Fold in 1/2 cup cheese, onion, chicken pieces, rice and broccoli florets.

Season with FRESH ground sea salt and black pepper.

Arrange mixture into baking dish, spread smooth.

Sprinkle top with remaining cheese.

Mix Panko crumbs into melted butter until well mixed.

Sprinkle on top of cheese.

Bake 30 minutes or until cheese is melted, casserole is heated through and bread crumbs have turned golden.