I originally found this recipe through America's Test Kitchen. Their changes to a typical recipe are awesome. I just made a few flavor profile changes for my family's likes. Brisket is one of the most versatile cuts of beef. While every culture treats it a little differently they all agree that a brisket takes TIME! So many other recipes either turn out watery and tasteless, super sweet or dry and chewy. BUT, this recipe turns out PERFECT!
Keeping this brisket moist is essential to its flavor profile. Keeping it moist is best done by making it the day BEFORE you want to serve it. By not cutting the beef until it is chilled it holds together into slices better. This also helps on the clean up level if you're making this for company. Removing the fat from the sauce is essential to a smooth rich sauce.
ONION BRAISED BEEF BRISKET
4-5 pound flat cut brisket
2 large Vidalia onions, halved and sliced 1/2 inch thick (thick slices hold up better)
1/2 teaspoon sea salt
3-4 garlic cloves, minced
2 tablespoons packed brown sugar
1 tablespoon tomato paste
1 tablespoon sweet paprika
1/8 teaspoon chipotle powder
2 tablespoons Wondra flour
1 cup chicken broth, yes I said chicken broth
1 cup cabernet sauvignon
2 teaspoons apple cider vinegar
3 bay leaves
3 sprigs FRESH thyme (I've used parsley in a pinch)
FRESH ground salt and pepper
Avocado oil
Bring brisket to room temperature.
Preheat oven to 300°.
Lower oven rack to lower middle.
Line your baking dish, preferably cast iron) with two to three heavy duty sheets of foil in opposite directions and long enough to fold over to seal the brisket inside.
Pat brisket dry and place fat side up on cutting board.
Using a fork or needle meat tenderizer, poke holes in meat through the fat layer.
Generously season both sides of brisket with salt and pepper.
Heat oil in large skillet over medium high heat.
Place brisket fat side up in skillet.
Weight down brisket with bacon press or cast iron skillet and sear until well browned, about 6 minutes.
Remove weight and turn brisket to sear fat side another 6 minutes or so until well browned.
Transfer meat to platter.
Pour off all but about 1 tablespoon of fat.
Add onions, sugar and sea salt, cooking 10-12 minutes until onions are soft.
Add garlic, cooking another minute or so until fragrant.
Add tomato paste and cook until it darkens, about 2 minutes.
Add paprika and chipotle powder.
Add flour and stir until well combined.
Stir in wine, broth, bay leaves, thyme sprigs and simmer 5 minutes until mixture begins to thicken. Be sure to scrape up any browned bits from the bottom.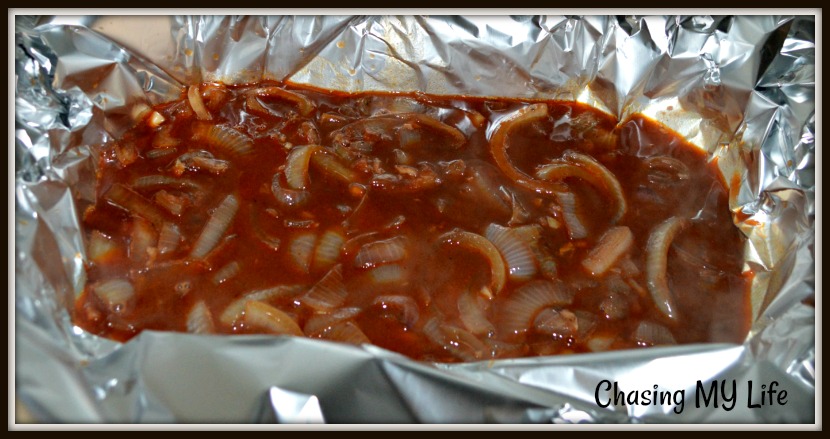 Pour onion mixture into the prepared dish and nestle brisket fat side up into the onion mixture.
Fold foil over and seal.
Bake 3 1/2-4 hours until fork slip easily into the meat and fat is broken down.
Carefully open foil and let brisket cool 20 minutes.
Transfer brisket to large bowl or baking dish.
Use a fine colander to strain sauce over brisket.
Discard thyme sprigs and bay leaves.
Place onion mixture in a small bowl.
Cover brisket and onions with Press and Seal.
Cut a couple small vents into plastic wrap.
Refrigerate the meat and onions separately at least 8 hours and up to 2 days. I do it overnight.
An hour before serving, preheat oven to 350°.
Transfer brisket to cutting board.
Skim fat from top of sauce and discard.
Pour sauce into a saucepan
Slowly reheat sauce, skimming as needed to get rid of excess fat until you have about 2 cups of sauce.
Stir in vinegar and reserved onions.
Season to taste.
Slice brisket against the grain and place in baking dish.
Pour sauce over brisket.
Cover dish with foil.
Bake until heated through. About 30 minutes.
Serve immediately.