DURING the depression in El Reno, a small Oklahoma town along the Mother Road aka Route 66 at Hwy 81 when hamburger meat was really expensive Ross Davis, an inventive diner owner found a way to ration the meat with the inclusion of flavorful and cheap onions that stretched the meat and built the flavor too, hence why it was called the depression burger.
The recipe has been passed down through the generations and are still made the same way today. Several other diners followed suit and a burger star was born. The burger became a national treasure and is the ugly kissing cousin to the prettier version of how burgers are served today with the grilled onions on top.
I've added cheese and changed the onions to shallots which give it a bit of an extra bite. By adding the cheese we have onions between the meat and cheese as well as on top of the cheese.  The key to the flavor in my opinion is to ALMOST burning the onions.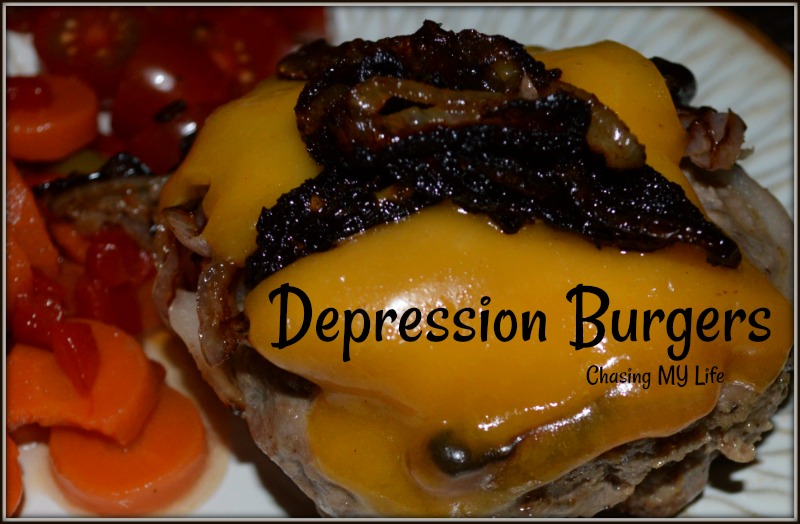 DEPRESSION BURGERS aka OKLAHOMA FRIED ONION BURGERS
Adapted from Cook's Country
3 shallots, peeled, halved and thinly sliced
salt and pepper
1 pound ground beef
1 tablespoon butter
1 tablespoon avocado oil
4-8 slices cheddar cheese
Mayonnaise
Ketchup and Mustard
Pickles
4 hamburger buns, toasted
Combine the onion slices and 1 teaspoon of salt in a large bowl, tossing to combine.

Transfer the onions to a colander and let sit for 30 minutes, tossing occasionally.

Transfer the onions to a clean dish towel, gather the edges together and squeeze out as much liquid as you can from the onions. Be sure to do this over the sink since the onions will have quite a bit of liquid in them.

Divide the onions into 4 separate mounds on a rimmed baking sheet.

Form the beef into 4 lightly packed balls.

Place the beef balls on top of the onion mounds and flatten the beef firmly using your palm so the onion adheres to the beef. The patties should measure 4 inches in diameter.

Season the beef generously with salt and pepper.

Melt the butter with the oil in a 12-inch skillet over medium heat.

Using a large spatula, transfer the patties to the skillet, onion side down. Cook for 6-8 minutes, until the onions turn a deep golden brown and begin to crisp around the edges.

Flip the burgers, then increase the heat to high and cook until well browned on the second side, about 2 minutes.

Add 1 or 2 slices of cheese to each burger and allow to melt.

Add mayo, mustard and pickles to the top buns, then place each burger on a bottom buns.

Serve immediately.
Originally posted July 12, 2018 / Updated May 23, 2023