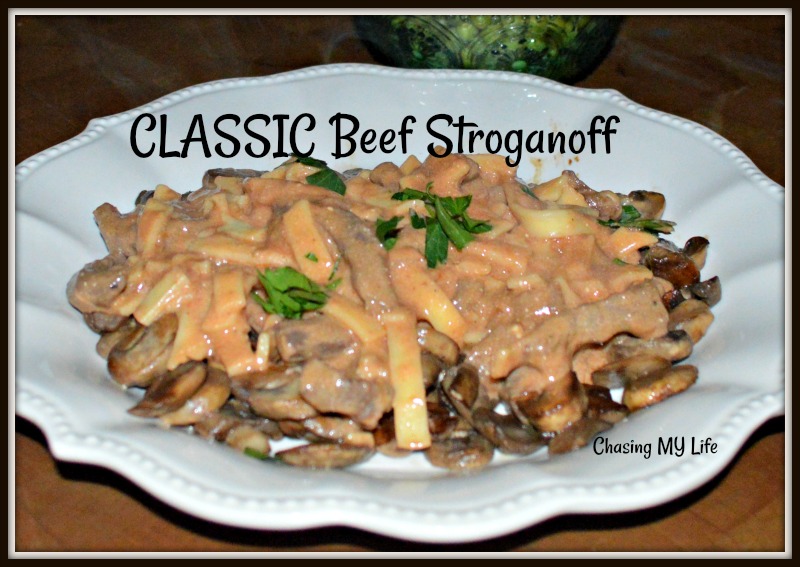 CLASSIC BEEF STROGANOFF
1 1/4 pounds sirloin tips, trimmed of fat and cut into 1 inch pieces
2 teaspoons Bragg's liquid aminos
2 tablespoons butter
3/4 pound mushrooms, sliced thin **
2 teaspoons hot water
1 tablespoon Coleman's dry mustard
1 teaspoon sugar
Fresh ground black pepper
1 tablespoon avocado oil
1 large shallot, diced fine
1 tablespoon tomato paste
2 tablespoons Wondra flour
1/2 cup dry white wine
1 1/2 cups beef broth
1/2 cup sour cream
1 tablespoon fresh chopped flat leaf parsley
Poke each piece of meat with a fork
In a mixing bowl toss meat pieces with Bragg's liquid aminos, cover and marinate 1 hour.
While meat is marinating prep mushrooms.
In a large skillet melt butter over medium high heat.
Add mushrooms and sauce until soft and caramelizeng.
Drain mushrooms and set aside.
Whisk together the water and mustard powder with the sugar, and some pepper just until a smooth paste forms. Set aside.
Pat meat dry with paper toweling.
Season with fresh ground pepper.
Heat oil in large skillet over medium high heat.
Add beef pieces and sear on ALL sides, reducing heat as necessary to prevent burning. Transfer eat to plate.
Add Add onions and saute until caramelized and browning.
Add in the tomato sauce and flour, stirring to blend.
Stir in beef broth, mustard paste and wine until well blended and bring to a SLOW simmer, cooking until slightly reduced and starting to thicken.
Fold meat pieces and mushrooms into the sauce and cook a couple minutes more until heated through.
Remove from heat and fold in sour cream.
Serve immediately over buttered noodles.
Sprinkle with parsley.
*NOTE*: I prefer thin sliced mushrooms, but some prefer larger mushrooms in which case you should use 1 pound and quarter them.
OR You can make this version of the same basic style meal – just depends on your flavor palette:
DEVILED STEAK TIPS serves 4-6
2 pounds boneless chuck roast, trimmed and cut into 1 inch cubes
2 1/2 tablespoons avocado oil
1 shallot, minced
2 garlic cloves, minced
2 tablespoons Wondra flour
3/4 cup beef broth
3/4 cup water
1/2 cup tomato sauce
1 tablespoon white wine vinegar
1 teaspoon creamy horseradish
1 teaspoon Dijon mustard
Fresh ground sea salt and black pepper
Pat beef dry.
Season with salt and pepper.
In a large skillet heat 1 tablespoon of the oil over medium-high heat.
Add half the beef and cook until well browned on all sides, turning as needed, about 6-8 minutes.
Remove beef with a slotted spoon to a bowl and add second batch.
Remove second batch with slotted spoon.
Add remaining oil to the pan.
When oil is hot, add onion and season with salt, sautéing until soft.
Add garlic and season with pepper.
Add in flour and stir to blend, cooking until golden.
Whisk in tomato sauce, beef broth, vinegar, horseradish, mustard and water. Be sure to scrape up any browned bits from the pan bottom.
Return beef and any accumulated juices to the skillet.
Simmer, stirring occasionally 1 – 1 1/2 hours until sauce is thickened and meat is tender.
Season to taste and serve over buttered noodles.
SHARING with FOODIE FRIDAY and FULL PLATE THURSDAY.