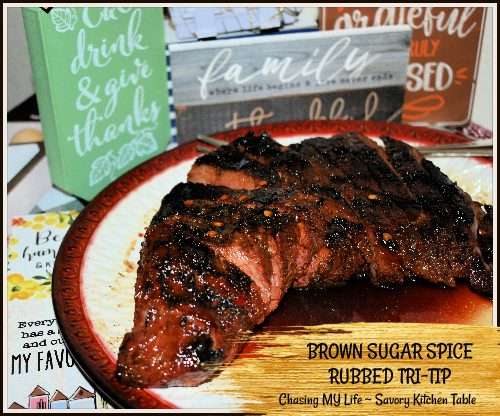 GRILLED or OVEN ROASTED BROWN SUGAR RUBBED TRI-TIP
1 whole tri-tip, about 2-3 pounds
3 + tablespoons of your favorite beef rub
6 + tablespoons dark brown sugar
Trim silver skin from roast.

The meat may have a thick layer of fat, some of which can be sliced off, but keep a

good amount to help baste meat and keep it juicy.

Sprinkle meat with your rub and massage lightly all over.

Pack the brown sugar over the rub, pressing to adhere.

Cover and refrigerate at least an hour or as long as overnight.
Remove from refrigerator an hour before cooking.

Prepare grill to high.

Place roast on grill and sear one side well, 6 to 8 minutes, checking for flare-ups.

Turn the roast and sear other side another 6 minutes.

Lower to medium-high or move the meat to a cooler part of the charcoal grill.

Turn meat again and cook another 8 to 10 minutes.

Flip and cook another 6-8 minutes.

The roast is ready when an instant-read thermometer reaches 130° when inserted into the thickest part of the meat.

Cover roast with foil and rest on a cutting board 10 to 20 minutes.

Slice against the grain.
NOTES and HINTS:
A 2-pound roast will require about 20 to 25 minutes total cooking time.

The trick is to carve the tri-tip against the grain, which can change directions in this cut. The roast is shaped like a boomerang. Slice the roast in two at the place where the fibers change direction. Carve each piece separately.

Left overs make AMAZING sandwiches.
OVEN ROASTING
Prepare meat with rub and refrigerate as instructed.

Preheat oven to 350°.

Add 2 tablespoons of avocado oil to a large, heavy ovenproof pan.

Heat pan on high until pan is very hot, then add tri-tip, fat side down.

Turn heat to medium-high and sear roast for about 4 minutes.

Turn the roast and put the pan in the oven.

Cook 10 minutes a pound, checking with an instant-read thermometer until it reaches 130 for medium-rare.