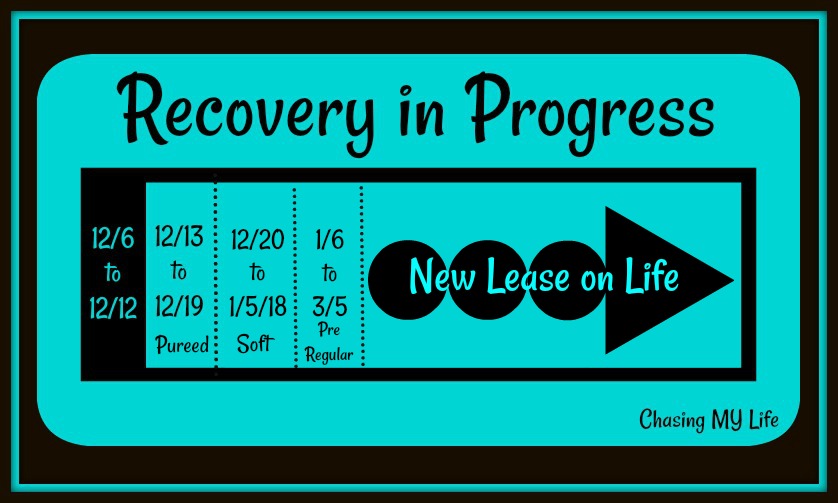 I an now entering the "SOFT" diet for at least 2 more weeks and then everything has to be in VERY small portions that are protein packed. SOFT is a relative word in the world of food.  They are really only adding 3-4 things to my diet, so it is still basically bland, unflavorful and plain. This ENTIRE process is about retraining my body and my mind.  Life as I knew it in the food world is over! It really is that plain and simple!

The part about this surgery that sucks is that I am NOT obese and did NOT need a gastric bypass for weight loss, but ended up with one because the doctor could not save the stomach after the BIO mesh side affects from previous procedures. So, life literally got tipped on its end from when I went into surgery and when I woke up – what was scheduled had to be drastically altered mid surgery.
I had wanted to lose a few pounds, which is definitely a done deal now. Now, I just have to make sure to get enough calories to not let it get out of hand!
I have been craving a silly scrambled egg FOREVER it seems! I also get to add a spoonful of peanut butter – YUMMY! And I told hubby not to get too comfortable with his bachelor diet. Starting next month as soon as I can muster enough energy to cook I am going to to take a hand at some Ramen Fusion. 

I'm already looking forward to 2 weeks from now when we enter the Pre-Regular Stage. The real trick will come in March when the lifetime diet takes affect! I am looking forward to the taste of REAL food, but not the digestive process.  Honestly REAL food scares the hell out of me. I've always been a type A person who eats too fast and food that too hot.  This is FORCING me SLOW down, chew more and eat less more often.