I found this recipe made for shrimp, but it is ALSO awesome with chicken.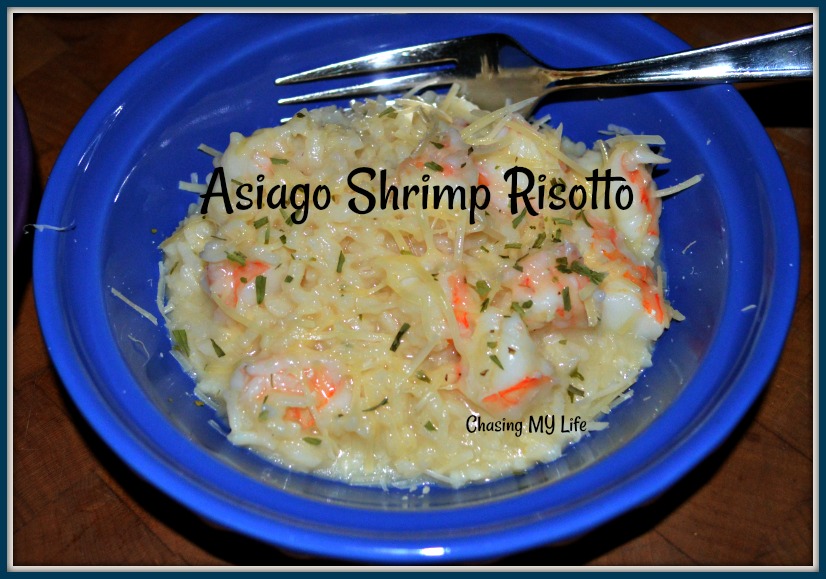 ASIAGO SHRIMP RISOTTO adapted from What The Fork's for Dinner?

4 tablespoons butter, divided
2 shallots, finely chopped
2 garlic cloves, minced
1 1/2 cups Arborio rice
2 tablespoons dry white wine
4 1/2 cups chicken stock, divided 3 + 1 1/2
Juice of 1 lemon
Coarse salt and freshly ground pepper
1 pound large shrimp, thawed, peeled and de-veined**
3/4 cup grated Asiago cheese
1/4 cup tarragon and flat-leaf parsley, chopped for garnish
In an electric pressure cooker set on sear, melt 3 tablespoons butter over medium heat.
Add shallots and garlic, sauté until translucent, about 4 minutes.
Add rice and cook, stirring, 1 minute more.
Add wine and cook until wine evaporates, about 30 seconds.
Add 3 cups of chicken stock and lemon juice; season with salt and pepper.
Secure lid.
Set pressure cooker on rice setting for 10 minutes.
Vent pressure, then remove lid.
Reset to sear setting and stir in shrimp with remaining 1½ cups broth, and cook until shrimp are opaque, 3 to 5 minutes.**
Stir in cheese and remaining 1 tablespoons butter.
Finish with herbs and serve immediately.
NOTE ** If using chicken use 1 pound cut into small bite sized pieces and adjust cooking time until chicken is cooked through.  I have also prepared chicken in a skillet getting a good sear on all sides before adding to risotto and then only stirring to coat well with sauce.
Linking up to FULL Plate Thursday.