One of the things we love in the summer is salads. I'm always looking for new recipes, but often I end up with 3 or 4 similar recipes. I always seem to combine the best parts of each recipe together to make a new and improved recipe. 😀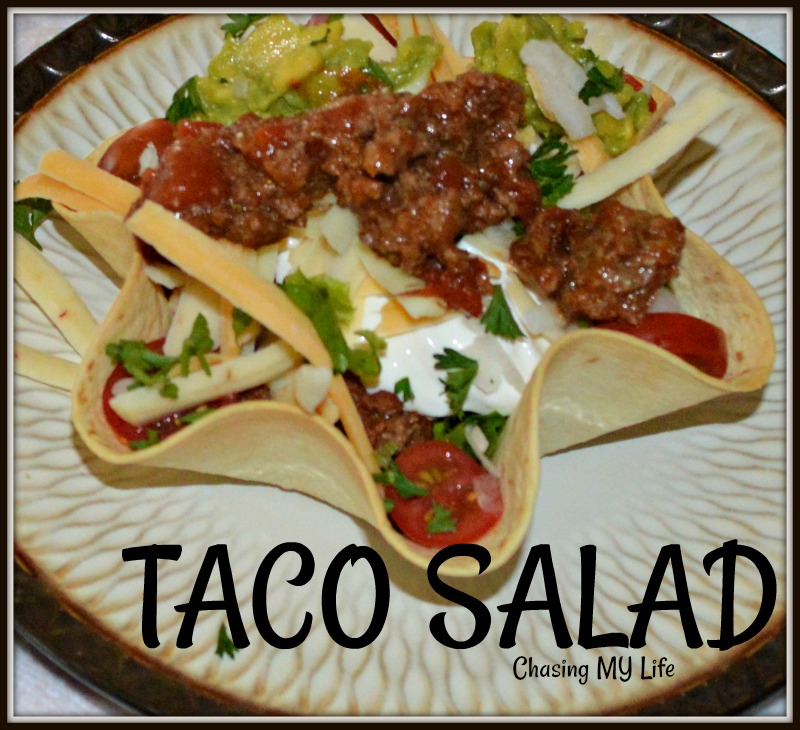 TACO SALAD serves 4
MEAT
1 pound ground chuck
1 small Vidalia onion, finely chopped
2 cloves garlic, minced
1 tablespoon chili powder
8 ounce can tomato sauce
1/2 cup chicken broth
1 tablespoon apple cider vinegar
1 tablespoon PACKED brown sugar
Heat oil in a large skillet until shimmering.
Add onion and cook until softened.
Stir in chili powder and garlic, cooking until fragrant.
Add beef, cooking and breaking it apart until ALMOST cooked through.
Add tomato sauce, broth, vinegar and brown sugar, simmering until slightly thickened, about 5 minutes.
Season to taste.
TACO SHELL BOWLS
4 – 10 inch flour tortillas
Non stick cooking spray
Preheat oven to 425°.
Adjust oven racks to middle.
Place 4 oven safe soup bowls or balls of aluminum foil on a baking sheet.
Heat tortillas in microwave a few seconds to make them warm and pliable.
Generously spray both sides of tortillas with non-stick cooking spray.
Drape tortillas over bowls or balls of foil.
Press bottoms flat and loosely pinch sides into pleats to form bowls.
Bake until tortillas are crispy and golden, about 10-15 minutes.
COOL COMPLETELY before turning over or filling.
SALAD
2 romaine hearts, shredded
1/3 cup bean dip
1/2 cup black beans
1 can white shoe peg corn, drained well
2 cups grape tomatoes, halved
1 small bunch green onions, thinly sliced
2 limes, juiced
3/4 cup shredded Jack and Cheddar cheeses
1/4 cup chopped cilantro + a bit more for garnish
1 lime, cut into wedges.
Toss together the lettuce, tomatoes, black beans, corn, green onions and cilantro.
Generously season salt and pepper.
Drizzle with lime juice and toss again.
ASSEMBLY
Place tortilla bowls on plates.
Divide salad amongst tortilla bowls.
Top with a spoonful of bean dip.
Top with a spoonful of meat mixture.
Sprinkle with cheese.
Garnish with lime wedges and remaining cilantro.