These are sooooooooo versatile!  you can mix and match flavors anyway you like. I've also made them with pepperoni and Italian seasoning with a hint of tomato paste in the cream cheese mixture for that Italian feel. Or with crumbled bacon and cheddar cheese – YUMMY! In my haste I did not get a picture of the finished plate and they went fast!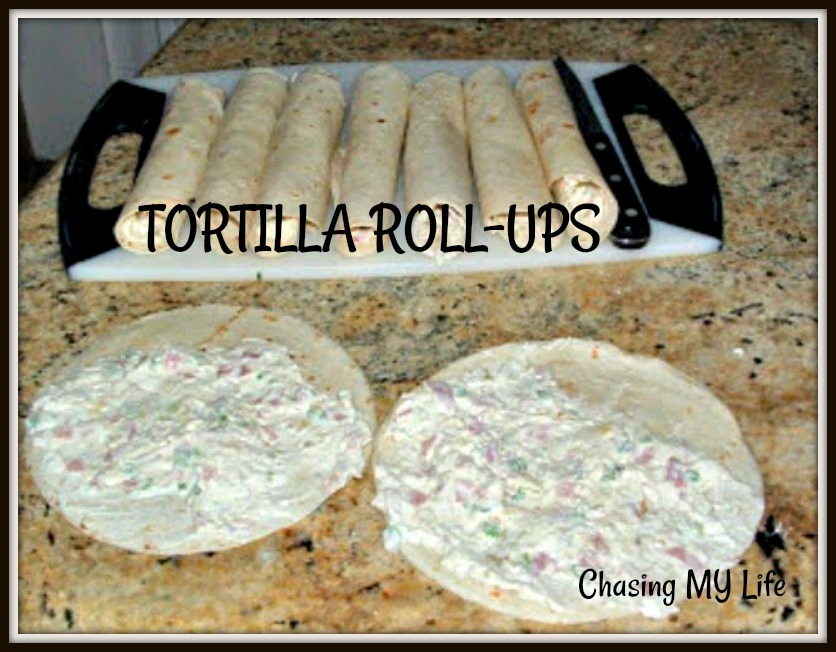 TORTILLA ROLL-UPS
8 ounces sour cream
8 ounces cream cheese softened
7 ounce can roasted chiles, drained well
1 small can chopped olives
1 bunch green onions, minced
1/3 pound ham, chopped fine
flour tortillas
In a small food processor blend together the cream cheese, sour cream, green chiles and olives until smooth.
Fold the minced ham and minced green onions into cream cheese mixture. If mixture appears thin, chill for 1 hour before filling tortillas.
Cut rounded ends of each side of the tortillas.
Spread 4 tablespoons of ham mixture on each tortilla leaving 1/2 inch along one edge.
Roll up each tortilla ending on the dry edge.
Lay side by side on a plate.
Cover loosely with saran.
Chill overnight.
Slice into 1/2 inch rounds just before serving.