I found this recipe called Italian Lemon Butter Chicken over at ALLrecipes and it was amazing!!  I did make several changes though for my family's likes and we like it so much better, so go check out the original recipe and you decide.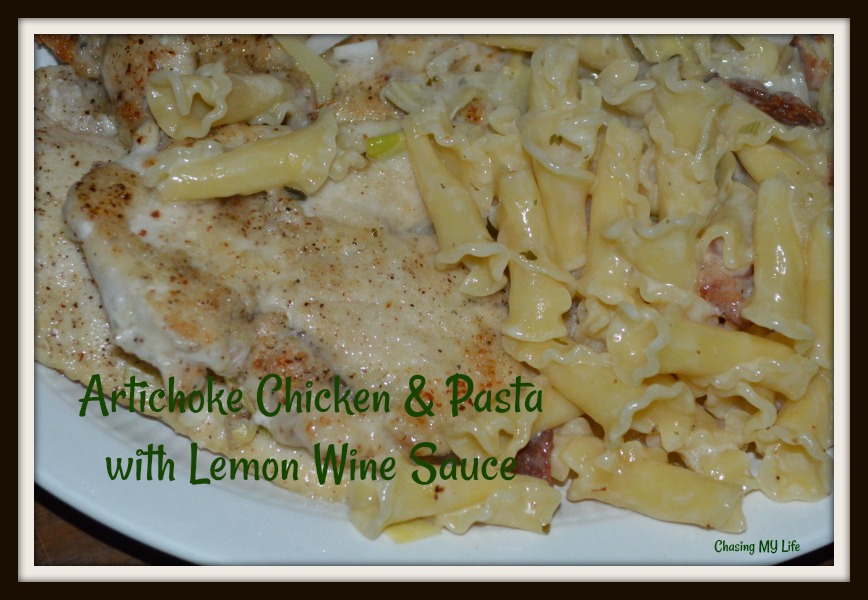 Artichoke Chicken & Pasta with Lemon Wine Sauce
1/4 cup white wine❉
Juice of 2 large lemons
1/3 cup heavy cream❉❉
1/2 cup butter, chilled❉❉
salt and pepper, to taste
1/2 pound dry campagnelle pasta
4 skinless, boneless chicken breast halves – pounded to 1/4 inch thickness
1 bunch green onions, halved and sliced
1 tablespoon butter
1/4 cup Wondra
salt and pepper to taste
4 slices bacon, diced
6 ounces mushrooms, sliced
6 ounces marinated artichoke hearts, drained and chopped ***TIP
1/4 cup finely chopped fresh parsley
To make the sauce, pour the wine and lemon juice into a saucepan over medium heat. Cook at a low boil until the liquid is reduced by 1/3.
Stir in cream, and simmer until it thickens. Gradually add the butter 1 tablespoon at a time to the sauce, stirring until completely incorporated.
Stir in parsley.
Season with salt and pepper.
Remove from heat, and keep warm.
Bring a large pot of lightly salted water to boil. Add pasta, and cook until al dente, about 8 to 10 minutes. Drain, and set aside.
Brown the bacon pieces most of the way until crispy. Drain the bacon pieces on paper towels.
Heat remaining bacon grease and 2 tablespoons butter in a large skillet over medium heat.
In a bowl, stir together flour, salt, and pepper.
Lightly coat chicken with flour mixture. Without crowding, carefully place chicken in hot oil cooking until cooked through and golden brown on both sides.
Remove the chicken to paper towels.
Stir the onions, mushrooms and artichokes into the remaining butter, adding more butter as necessary; cook until the mushrooms are soft.
Add in the bacon pieces.
Add in pasta, stirring to blend.
Add sauce to the pan and stir to coat well.
NOTE 1❉:  a dry blush works well also.
NOTE 2❉❉:  I didn't have enough butter so substituted 3/4 cup buttermilk this time and was pleased with the results.
***TIP save your artichoke marinade and use it as a base for a quick salad dressing to go with your meal.

Save
Save
Save