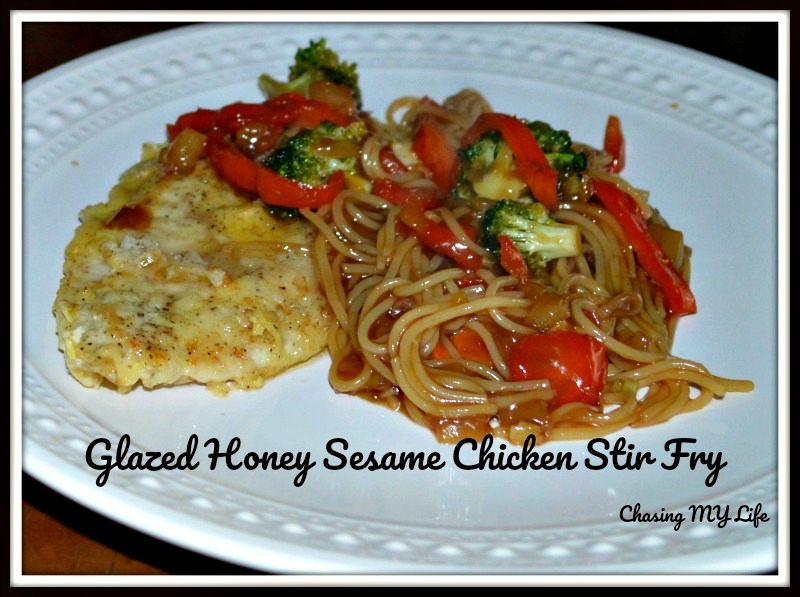 GLAZED SESAME CHICKEN STIR FRY
1 1/2 pound chicken breasts, cut into bite sized pieces
1 LARGE egg, beaten
1/2 cup rice flour
1 red pepper, diced or sliced small
3 green onions, sliced thin
3 cloves garlic, minced
2 cups broccoli florets
1 tablespoon honey
1 large can crushed pineapple
1/2 cup Hoisin sauce
1 +2 tablespoons sesame oil
1 1/2 tablespoons cornstarch
2 tablespoons Bragg's Liquid Aminos
1/2 pound spaghetti noodles or Soba noodles, prepared al dente'
Drain pineapple retaining ALL the juice.
Generously season chicken steaks with salt and pepper.
Cut chicken into bite sized pieces.
Dredge chicken pieces first in beaten egg and then rice flour.
Heat wok or skillet to medium high.
Add 2 tablespoons sesame oil and coat pan well.
Add chicken pieces and sear on all sides JUST until done.
Remove chicken and keep warm.
Add additional sesame oil and heat.
Add broccoli florets and saute 1-2 minutes.
Add bell pepper and garlic and cook until pepper is tender.
Add green onion.
Whisk together the pineapple juice, soy sauce, honey, Hoisin sauce and cornstarch until well blended.
Add sauce mixture to the wok. Cook 2-3 minutes, stirring well.
Add in pineapple.
Cook until sauce is slightly thickened.
Add chicken pieces back in and toss to coat.
Add noodles and toss well.
Serve immediately.
This is my original recipe and it is great, but today I made thin chicken steaks because I already had them in the fridge, but much prefer the original bite size pieces – they get so much more flavor cooking that way.
Save