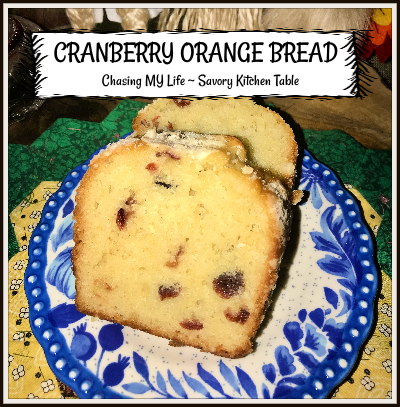 CRANBERRY ORANGE BREAD
Cranberry orange bread is a go to fall favorite for us with its FRESH cranberries and sweet orange glaze. It also makes a wonderful neighbor gift during holiday times.

3 cups all-purpose flour
1 teaspoon salt
2 teaspoons baking powder
2 cups sugar
Zest of 2 LARGE oranges
1 1/2 cups buttermilk
1 cup neutral oil
4 LARGE eggs, lightly beaten
2 tablespoons FRESH orange juice
1 teaspoon PURE vanilla extract (see notes)
2 cups FRESH cranberries, halved
½ cup chopped walnuts (Optional)

Preheat oven to 350°.

Spray two 9×5 loaf pans with cooking spray and set aside.

In a large bowl add sugar and orange zest, stirring well to combine.

Add flour, salt, and baking powder, stirring to combine.  Set aside.

In a separate medium bowl, combine the buttermilk, oil, eggs, orange juice, and vanilla.

Slowly add the wet ingredients to the dry ingredients, stirring just until combined.

Fold in the halved cranberries and walnuts if using.

Pour batter into prepared pans.
For regular sized loaf pans, bake for 60 to 75 minutes, or until a toothpick inserted in the center comes out clean.

Cool 10 minutes before removing from pan. Let cool completely on wire rack.

For mini loaves, bake for 35 to 45 minutes.

Remove from oven and set on a cooling rack for 10 minutes. Loosen the sides of the bread with a knife.

For muffins, bake for 15 to 20 minutes. Cool 10 minutes before

removing from pan. Let cool completely on wire rack.
GLAZE
1 1/2 cups powdered sugar
2 tablespoons FRESH orange juice
1 1/2 teaspoons orange zest
Powdered sugar, for dusting (Optional)
In a small bowl, combine powdered sugar, orange juice, and orange zest.

Whisk until smooth.

Drizzle the glaze over the bread.


Dust with the powdered sugar if desired.
NOTES:
If your loaf starts to get too brown during cooking, place a piece of aluminum foil over the top to finish baking. 

I make my own vanilla so often have great complimentary flavors. This batch was made with a coconut pineapple vanilla.
STORING – Wrap in plastic wrap and store 2-3 days at room temperature.
FREEZING – This cranberry bread freezes beautifully.  Cool completely, Wrap well in plastic and ziploc bag.  Freeze for up to 3 months.  Thaw at room temperature.