It's
FOODIE FRIDAY
over at
RATTLEBRIDGE FARM
and a great time for me to catch up on a few recipes that needed posting from the recently tried stack of
Magazine Monday
recipes and this week there were quite a few winners I must say.
First up is:
BULLAI RUBBED CHICKEN
2 pounds chicken tenders, rinsed and dried
1 1/2 teaspoons chili powder
1/2 teaspoon sea salt
2 teaspoons garlic powder
1 KNORR onion bouillon cube, crushed
1 teaspoon California sweet Paprika
1 KNORR chicken homestyle stock tub
2 tablespoons sun dried tomatoes
Juice of 1 lemon
4 tablespoons butter, divided
Combine spices until well blended.
Sprinkle rub on both sides of chicken  rubbing in well.
Melt 2 tablespoons of butter over medium high heat.
Cook chicken pieces until just done, about 4 minutes per side.
Remove chicken pieces, keeping them warm.
Add remaining butter and KNORR stock and hot water, whisking into drippings until well blended.  Bring to a boil over medium high heat and simmer about 10 minutes until reduced by half.
Whisk in the lemon juice and whipping cream until well blended.
Add sun dried tomatoes.
Reduce heat, simmering to desired consistency.
Pour over chicken and mashed potatoes.
Next was a super easy and SUPER tasty recipe:
GERMAN SMASHED POTATOES
3 pounds YUKON GOLD potatoes, peeled and cut into chunks, cooked tender
1/2 pound bacon
4 tablespoons apple cider vinegar
1 teaspoon sugar
Cook bacon until crisp, drain on paper towels.
Add vinegar and sugar to bacon fat, being sure to scrape up all the bits on the bottom of the pan and cook until well blended. Remove from heat.
In a large bowl add the potatoes and smash.
Crumble the bacon over the potatoes.
Pour the vinegar mixture over top and mix well.
Enjoy.
Then came a more time consuming recipe, but one hubs fell in love with:
I also found that they now make refried BLACK beans – gotta tell you I'm loving these!
LAYERED TORTILLA PIE
1 cup salsa
1 pound ground beef
1 can refried BLACK beans
1 can traditional refried beans
8 inch flour tortillas
2 cups Mexican shredded cheese
sour cream
1/2 cup chopped tomatoes
Brown the hamburger and drain off the grease.
Add 1/2 cup water and taco seasoning to the hamburger.
Cook until liquid is absorbed.
Preheat oven to 400°.
In a medium bowl mash together the refried beans, 1/2 the salsa and 1/2 the garlic.
In another medium bowl mash together the refried BLACK beans, 1/2 the salsa and 1/2 the garlic.
Spray a shallow pie pan with PURE.
Spread a small amount of sour cream on a tortilla and lay in the bottom of the pie pan.
Spread with one of the bean mixtures.
Add another tortilla and spread with some meat mixture.  Top with a thin layer of cheese.
Repeat layers until you have about 7 or 8 layers.
Top with remaining cheese.
Cover lightly with foil.
Bake 40 minutes. Uncover and bake 5 minutes until cheese is bubbly.
Cut into wedges and serve with salsa and sour cream.
Here's an all-time favorite:
SEAFOOD SALAD
Shredded Romaine
Tomato wedges
Sliced green onions
Juice of 1 lemon
salt and pepper to taste
1 large can tuna, drained really well
Mayo to taste
Toss all together and enjoy with some garlic bread.
And lastly one of our new favorites:
ITALIAN MEATLOAF CUPS w/ PARMA ROSA PASTA
1 pound hamburger
1 pound Italian sausage
2 bunches green onions, chopped
1 sleeve saltines, crushed
2 eggs
1 can Italian tomato paste
8 oz. shredded cheddar cheese
2 cloves garlic
1 teaspoon sea salt
1 teaspoon white pepper
1 tablespoon Worcestershire sauce
1 tablespoon liquid smoke
Preheat oven to 350 degrees.

Blend all together.
I use the mini loaf pans and fill each one 2/3.
Bake for 45 minutes or until top is crispy.
Pour off excess fat before serving.
Bake how ever many you need today and freeze the others for future meals. Thaw in refrigerator before baking.
These are truly greatest hits at our house and welcome leftovers for weekend picnic sandwiches.
PARMA ROSA PASTA
2 tablespoons butter
1/2 cup heavy cream
1 teaspoon minced garlic, jar
1 tablespoon Classico sun-dried tomato paste
1 egg yolk, beaten
1/4 teaspoon thyme
salt and pepper to taste
3/4 cup grated Parmesan cheese
Melt butter in a saucepan.
Add garlic and saute until fragrant.
Gradually add heavy cream, stirring constantly. Stir in salt, pepper and grated Parmesan cheese and stir constantly until melted.
Whisk in egg quickly and heat through.
Recipes Submitted to:
and TATERTOTS & JELLO'S  LINK PARTY PALOOZA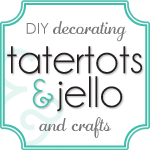 Save