I love Escalante's Roasted Corn Bisque – Fresh roasted corn, poblanos, bacon, grilled chicken, and onion in a sherry wine bisque and have been working to duplicate it. I think I have FINALLY accomplished it!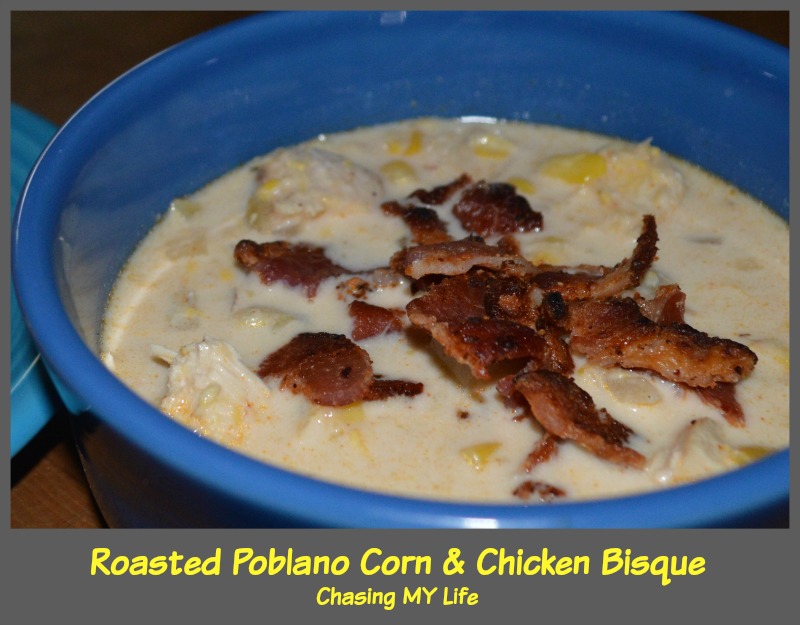 Roasted Poblano Chicken and Corn Bisque
2 medium Poblano peppers
1-2 tablespoons avocado oil
1 small onion, diced
2 cloves garlic, minced
1/2 teaspoon chili powder
1/2 teaspoon cumin
4 1/4 cups chicken broth, divided
2 cups peeled, small diced potatoes
2 cups cooked, grilled chopped chicken
2 cups fresh roasted corn on the cob, sliced off
2 cups half and half or light cream
4 tablespoons flour
1/2 cup sour cream
4-6 slices bacon, cooked crisp and crumbled
1/4 cup sherry
Salt and pepper, to taste
OPTIONAL
Shredded Cheddar or Parmesan  cheese
a dollop of Sour cream
Chopped fresh cilantro
Preheat oven to 425 degrees.
Cut Poblanos in half and remove seeds.
Place cut side down on a lightly greased baking sheet.
Spray Poblanos with non-stick cooking spray and roast for 8-10 minutes or until skins begin to blacken.
Remove from oven and cool slightly.
In a large pot, heat oil over medium heat.
Add onions and garlic and cook for 3-5 minutes or until tender.
Dice roasted Poblanos in to small pieces and add them to the pot along with chili powder and cumin, cooking a few minutes longer.
Add chicken broth to the pot and bring to a boil.
Add potatoes and corn.
Simmer about 10 minutes, or until potatoes are just tender.
Puree' about half of the corn and potato mixture.
Add puree' mixture back into pot.
Stir in chicken.
In a small bowl, whisk together the half and half, remaining 1/4 cup broth, the sherry, sour cream  and 4 tablespoons of flour.
Whisk the cream mixture into the soup until smooth.
Simmer for 5-10 minutes to allow soup to thicken.
Stir in the crumbled bacon and cilantro.
Season with salt and pepper, to taste.
Serve with optional toppings, if desired.
Save