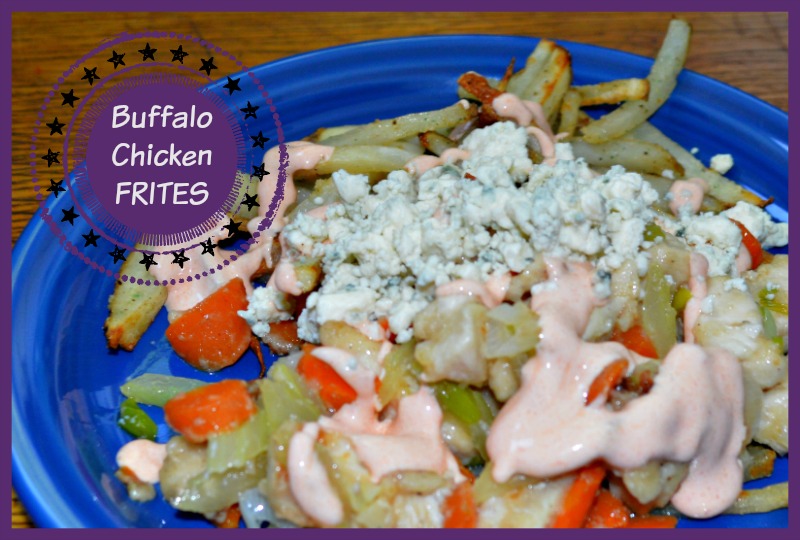 We love this recipe because it is so easy to personalize it.  Hubby LOVES Bleu Cheese, me not so much so I can make mine with cheddar or Jack.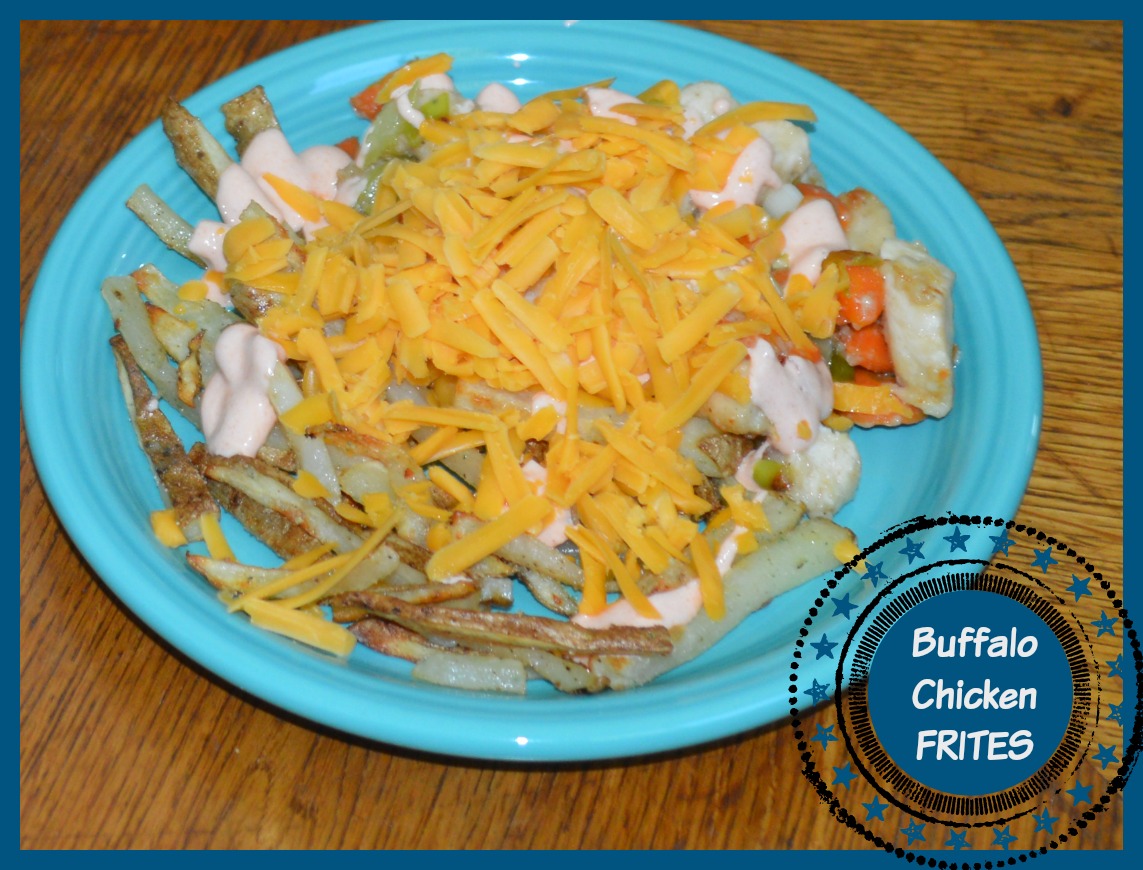 BUFFALO CHICKEN FRITES
2 russet potatoes
2 medium carrots, sliced on an angle thinly
1 large celery stalk, sliced on an angle thinly
2 cloves garlic, minced
1 bunch green onions, sliced on an angle thinly
2 boneless, skinless chicken breasts, cut into small bit sized pieces
1/4 cup sour cream
1/8 cup Bleu Cheese crumbles
1/4 cup grated sharp cheddar cheese
1/8 cup rice flour
1 +  1 teaspoon Ranch seasoning
2 tablespoons Frank's Original Hot Sauce
2 +1  tablespoons butter
1 tablespoon Avocado oil
Fresh ground Himalayan Pink Salt, to taste
Fresh ground Black Pepper, to taste
Preheat oven to 450°.
Line cookie sheet with foil.
In a small bowl whisk together the sour cream, hot sauce and salt and pepper to taste.
Wash potatoes and dry well.
Slice potatoes into even size sticks.
Toss potato sticks with avocado oil and fresh ground pepper to taste.
Arrange potato sticks in a single layer on the cookie sheet and bake 15 minutes.
Toss again with 1 teaspoon of Ranch seasoning and bake another 15 minutes or until golden brown and crisp.
While frites are baking, prepare chicken.
In a ziplock bag combine the rice flour and 1 teaspoon of Ranch Seasoning.
Add chicken pieces and coat well.
In a cast iron skillet melt the butter.
Add chicken pieces and brown well on all sides.
When chicken is almost done move to outer edges of pan.
Add 1 tablespoon butter more to center along with onions, celery, carrots and garlic. Cook until veggies are tender.
Mix together veggies and chicken pieces.
Drain in a colander of any excess oil.
Toss chicken mixture with sour cream mixture.
Plate crisp frites.
Top with a scoop of chicken mixture.
Top with cheese crumbles and ENJOY!
Save