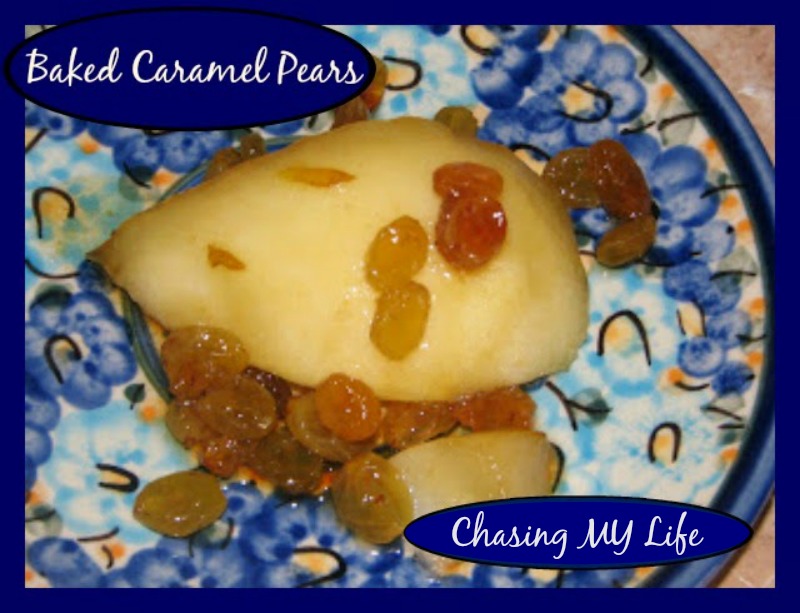 BAKED CARAMEL PEARS
3-4 firm pears, pared and cut into fourths
1/3 cup packed brown sugar
1 teaspoon cinnamon*
2 tablespoons butter, cut into small squares
1/2 cup heavy cream
4 to 6 tablespoons chopped, toasted pecans, optional
1/4 cup rum soaked golden raisins**
Preheat oven to 400 degrees.
Arrange pears side by side, center down in an un-greased 8×8 baking dish.
Stir together the brown sugar and cinnamon.
Sprinkle raisins around the pears.
Sprinkle with the brown sugar.
Evenly dot with the butter squares.
Bake uncovered 35-40 minutes or until pears are tender and brown sugar is bubbly.
NOTE 1* I deleted the pecans and increased the brown sugar to 1/3 cup while adding the cinnamon also.
NOTE 2** I soaked the raisins in rum for a day or so before and they were yummy!
Next time I will broil the pears for a couple of minutes after they come out of the oven to crystallize the sugar.
Save
Save
Save