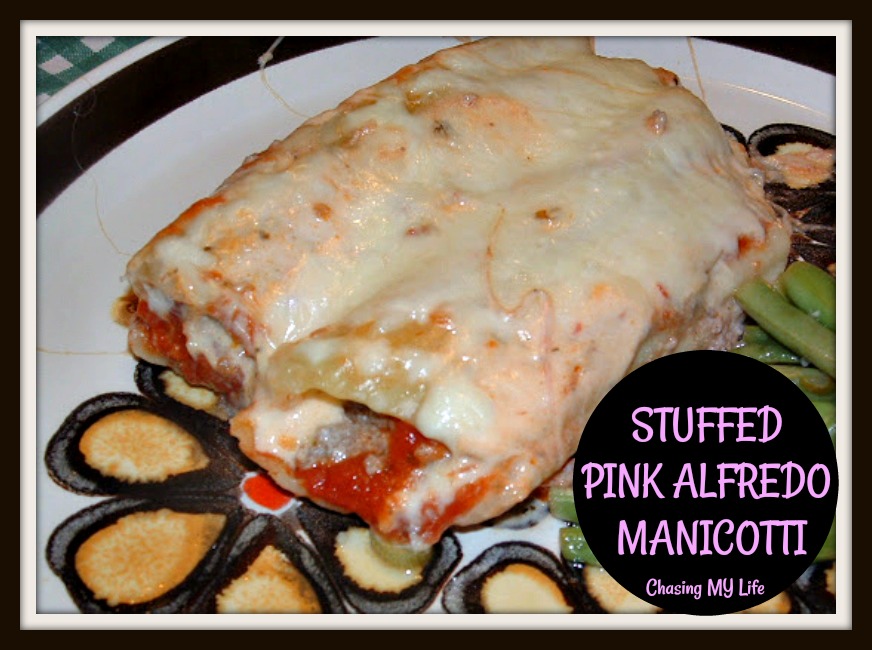 STUFFED PINK ALFREDO MANICOTTI 
1 box manicotti pasta shells
1 pound lean ground chuck
15 ounces ricotta cheese
3 cloves garlic, minced
1 small bunch green onions, diced
1 tablespoon Italian seasoning mix
salt and pepper to taste
2 cups grated Mozzarella cheese
2-8 ounce cans  tomato sauce
1 recipe PINK ALFREDO SAUCE (recipe follows)
In a large skillet brown ground chuck with onions and garlic.
Salt and pepper generously.
Drain fat.
Slice shells carefully along one edge so they resemble taco shells. Once they are cooked no one will notice that you took the easy way out to fill them.
In a 9×13 baking dish pour tomato sauce evenly on bottom.
Top with 1/3 of the grated Mozzarella cheese.
Fill each shell to overflowing with Ricotta mixture.
Lay side by side on tomato sauce.
Top with PINK ALFREDO SAUCE and the remaining Mozzarella cheese.
Bake 30 minutes until cheese is golden and melted.
Serve with Garlic Cheese Bread.
PINK ALFREDO SAUCE
2 tablespoons butter
1/2 cup heavy cream
1 teaspoon minced garlic, jar
1 tablespoon Classico sun-dried tomato paste
1 egg yolk, beaten
1/4 teaspoon thyme
salt and pepper to taste
3/4 cup grated Parmesan cheese
Melt butter in a saucepan.
Add garlic and saute until fragrant.
Gradually add heavy cream, stirring constantly. Stir in salt, pepper and grated Parmesan cheese and stir constantly until melted.
Whisk in egg quickly and heat through.