I hope everyone had a great weekend. Can you believe we are more than half way through this year already? I spent the weekend sorting and packing and have been able to make even larger donation boxes and feel quite liberated by it.  While the weather was better, it was still not great and I can't tolerate the heat with what's going on in my body so spent the weekend inside and was able to catch both NASCAR races and watch some Hallmark Christmas movies too.
OUTSIDE MY WINDOW & THE WEATHER OUTSIDE
We're still having high temperatures in the mid 90's, but the dew points have dropped making the heat indexes a bit lower so it's a bit more tolerable even with high humidity.
ON THE BREAKFAST PLATE
Nothing as I'm fasting for an 11AM test.
WEEKLY TO DO LIST & HOUSE PROJECTS
LAUNDRY… just a couple loads

LIVING AREAS… I spent the weekend sorting and packing so have a bit of mess, but nothing I can't live with.

KITCHEN… quite clean, but I plan to make a mess soon.  I'm such a messy cook as I invent

STUDIO… Nothing this week

YARD… Hubby just mowed so we're good for now

BLOG… still doing some recipe updating and planing for future posts as I re-do some pictures from the blogs I'm combining
CURRENTLY READING & TELEVISION / DVR

Midnight Texas Starts tonight. I have been stockpiling Christmas movies on the DVR all week during the Christmas in July premiere at Hallmark and we found a few more Netflix shows we've been trying.
I'm still only half way through with Book #2, French Roast of Ava Miles' series for Dare Valley. I keep falling asleep LOL. And then there are my summer standards:

THE NIGHT SHIFT – I'm ready for T.C. to come home.
SALVATION – We'll see where they go with it.  I'm still undecided.
AMERICA'S GOT TALENT – always a fun watch – loving the new softer side of Simon and fun side of Tyra.

ZOO – is back. I wasn't sure I liked the 10 year jump into the future, but am getting used to it since they are using the same characters, just took some adjusting.
FOOD NETWORK STAR – I LOVE Jason and Matt and Rusty.  Jason was so funny on the Holiday Baking Championship which he won against professionals.  He is pretty innovative with flavor combos and I just love his country accent and euphemisms.
AMERICA'S GOT TALENT – always a fun watch – loving the new softer side of Simon

DATE MY DAD – it's pretty cute and I want to look as good as Raquel Welch does when I'm her age!

GREAT BRITISH BAKING SHOW – I just love this show – they are always so civilized and nice with recipes that make me WANT to be a better baker.
MASTER CHEF – there are some interesting characters this season and some I can't wait to see go home as well as a couple I thought I was NOT going to like that are growing on me. I was quite surprised with this week's ending, at least with the final challenge and who Yachecia choose to battle against and was impressed that she chose to save 6 others instead of herself.  I really thought she'd pick Jeff. I just don't care for him and I really thought he should go after yelling at Gordon Ramsay.

THE "F" WORD – I love this fun new side of Gordon Ramsay with his funny antics and pranks with disguises.

MENU PLANS FOR THE WEEK
| | | | | | | | |
| --- | --- | --- | --- | --- | --- | --- | --- |
| | MONDAY | TUESDAY | WEDNESDAY | THURSDAY | FRIDAY | SATURDAY | SUNDAY |
| BREAKFAST | FRUIT & COFFEE | SCRAMBLED EGGS | FRUIT SMOOTHIE | FRUIT & COFFEE | SCRAMBLED EGGS | BAKED OMELETS | SHIRRED EGGS |
| LUNCH | FRUIT & CHEESE | SOUP | MEAT ROLL-UPS | SALAD | MEAT & CHEESE | C.O.R.N. | ?? |
| DINNER | ITALIAN BBQ CHICKEN and SALAD | SLUMBERING VOLCANOES | C.O.R.N. | FONTINA STUFFED PORK CHOPS | CHICKEN and ONIONS in WHITE WINE CREAM SAUCE | C.O.R.N. | SESAME CHICKEN |
| DESSERT | | | | | | | |
SUCCESSFUL RECIPE LINKS FROM LAST WEEK
HEALTH & BEAUTY TIPS
HOMEMAKING/COOKING TIP
ON MY MIND / THINGS THAT ARE MAKING ME HAPPY
The first of the four yucky tests is over and the second is later this morning and then I have to wait 5 weeks due to scheduling availability for test three and four which fortunately will both be performed at the same time while I'm under anesthesia by my doctor. Last Friday's test was a ClusterF**k of technicians and misread orders that left me flustered and agitated.
At this point I almost don't care what they find as long as the find something that can be cured and cured sooner than later.  This has all been going on for over a year now and it is no way to live!
FAVORITE PHOTO FROM THE CAMERA

The older (over 100 in human years based on the current dog years to human years calculator) Gunny gets, the easier it is to do this to him on a regular basis.  He also sleeps through thunder and door bells now too.
INSPIRATION
Be sure to link up with Sandra at Diary of a Stay at Home Mom for Happy homemaker Monday and with Laura at I'm an Organizing Junkie for Menu Plan Monday.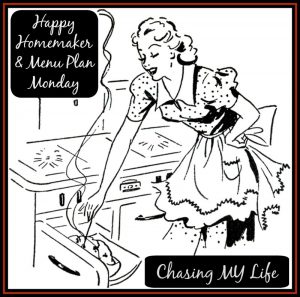 Save
Save
Save
Save
Save
Save
Save
Save