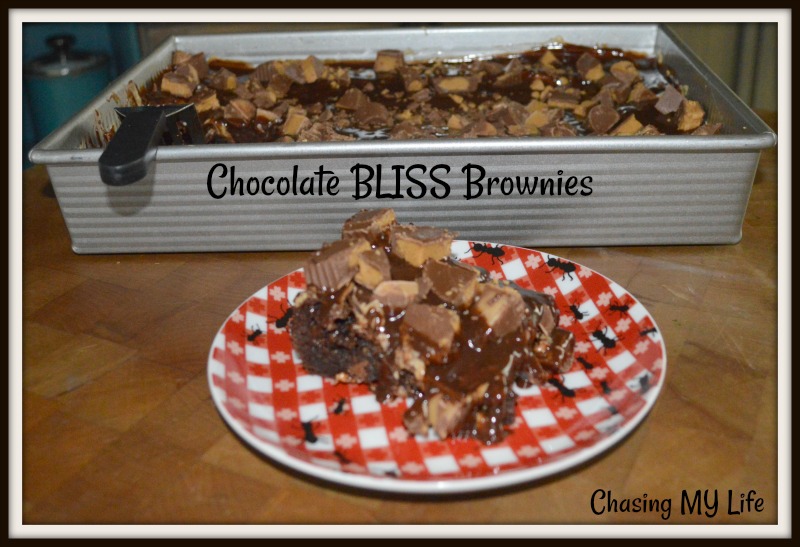 This is another recipe I originally found over at Two Peas & Their Pod. Ironically she found the recipe for these decadent Chocolate and Peanut Butter Lover's Brownies from Jessica of Delish's new cookbook, Seriously Delish which is sitting in my bookshelf. You mean to tell me this recipe was here the entire time and I didn't know it? Shhh, don't tell hubby, he'll be mad I haven't made them before now! He is a chocolate and peanut butter fanatic – "You got chocolate in my peanut butter, no you got peanut butter on my chocolate"… from this vintage 80's Reese's TV commercial.
This is a Chocolate and Peanut Butter Lover's dream come true – fudgy brownies with a layer of peanut butter, a layer of chocolate ganache AND peanut butter cups on top! These brownies are too good to be true!  PURE BLISS! If you love chocolate and peanut butter, you will go CRAZY for these brownies! They are truly to die for – pure cloud floating heaven! BUT, even better is that you can change up this recipe just by changing which candy bars or combinations of candy bars you chop up for the top of the ganache. I've tried the original recipe with Reese's as is and have tried it also with ROLOS, KIT KATS and MOUNDS.  They are ALL good and have a distinct flavor despite the rest of the recipe being exactly the same each time.
Do yourself a serious favor and make these brownies SOON! They are a new favorite here at our house and I know they will be for you too!
CHOCOLATE BLISS BROWNIES
Yield: Serves 10-12
Prep Time: 20 minutes
Total Time: 1 1/2 hours
BROWNIES
12 tablespoons unsalted butter, cut into pieces
3 1/2 ounces semisweet chocolate, chopped
3/4 cup all-purpose flour
2/3 cup unsweetened cocoa powder
1 teaspoon baking soda
1/2 teaspoon baking powder
1/2 teaspoon salt
1 1/2 cups granulated sugar
2 large eggs, plus 1 egg yolk, lightly beaten
2 teaspoons vanilla extract
2/3 cup chocolate chips
Preheat the oven to 350.
Spray a 9×13-inch baking dish with nonstick spray.
Add the butter and chopped chocolate to a microwave-safe bowl and microwave until melted, 30-60 seconds. Once the chocolate is semi-melted, stir constantly to melt the rest. Set aside and allow the mixture to cool for 5 minutes.
In a small bowl, whisk together the flour, cocoa powder, baking soda, baking powder, and salt. Set aside.
In a large bowl, whisk together the melted butter-chocolate mixture and granulated sugar.
Whisk in the eggs, egg yolk, and vanilla extract, stirring until a smooth batter forms.
With a large spoon, mix in the dry ingredients JUST until combined.
Stir in the chocolate chips.
Add the batter to the baking dish.
Bake until the brownies are set and no longer jiggly in the middle, 25-30 minutes.
Remove from the oven and let them cool for 30 minutes.
FILLING
1 cup creamy peanut butter, melted
1/2 cup powdered sugar
1 tablespoon coconut oil
Stir together the melted peanut butter, powdered sugar, and coconut oil until smooth. The warm peanut butter will melt the coconut oil as you stir until well blended.
Pour the filling over the brownies, using a spatula to spread it around the top.
Let cool completely and firm up, about 20 minutes.
TOPPING
8 ounces milk chocolate, chopped
1/2 cup heavy cream
1 1/2 cups chopped peanut butter cups
Add the chocolate to a large bowl.
Heat the cream in a small saucepan over medium heat just until it bubbles around the edges. Remove the cream from the heat and pour it over the chocolate.
Let the mixture stand for 30 seconds, then stir until the chocolate melts and a smooth ganache comes together, about 1-2 minutes.
Pour it over the top of the brownies, then cover with the chopped peanut butter cups.
Let the brownies sit for 30 minutes to set up before cutting.
NOTE: The brownies will stay fresh for 2 to 3 days at room temperature if covered or kept in an airtight container. You can also keep them in the fridge, they will last a few days longer.