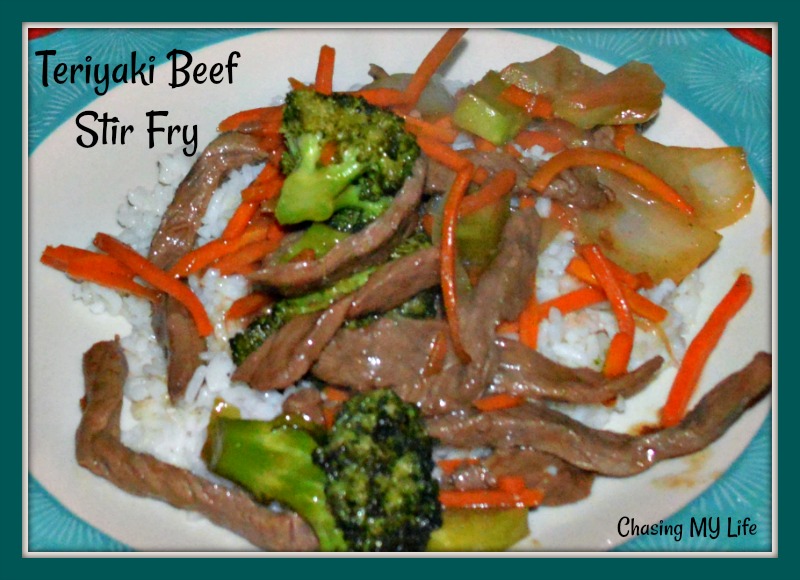 TERIYAKI BEEF STIR FRY
3 tablespoons cornstarch, divided 2 + 1
1⁄2 cup plus 2 tablespoons water, divided
1⁄2 teaspoon garlic powder
1 pound boneless round or chuck steak cut into thin 3-inch strips, seasoned well with garlic powder and pepper
2 tablespoons vegetable oil, divided
4 cups broccoli florets
1 small onion, cut into wedges
1/2 cup shredded carrots
1⁄3 cup Bragg's Liquid Aminos
3 tablespoons brown sugar
1 teaspoon ground ginger
hot cooked rice
In a medium mixing bowl, whisk together 2 tablespoons cornstarch, 2 tablespoons water and garlic powder until smooth.
Add beef slices and toss to coat.
In a large skillet or wok over medium high heat heat oil.
Add beef and stir-fry to desired tenderness; remove and keep warm.
Stir-fry broccoli and onion in remaining oil for 4-5 minutes until they begin to soften.
Return beef to pan, tossing to blend with vegetables.
Add carrots and toss to blend.
Whisk together soy sauce, brown sugar, ginger, remaining cornstarch and remaining water until smooth; add to the pan, stirring to coat well.
Cook and stir for 3-4 minutes more.
Serve over rice.
Save