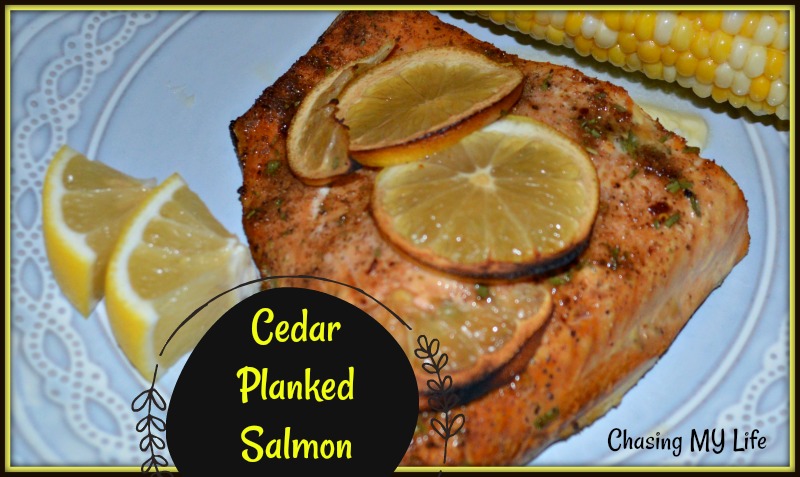 CEDAR PLANKED SALMON
adapted from Chris @Nibble Me This who adapted the Potlatch seasoning from Bobby Flay
4 salmon filets
2 lemons cut into 16 slices
1 teaspoon each fresh coarse ground Himalayan pink salt & black pepper
3/4 teaspoon chili powder
1/4 teaspoon red pepper flake
1/4 teaspoon dried tarragon
1/4 teaspoon celery salt
1/4 teaspoon dried minced garlic, smashed
1/4 teaspoon onion powder
1/4 teaspoon dried Italian seasoning
Preheat a charcoal grill set up for direct heat at 350°.
Mix the spices together for the potlatch seasoning.
Place half the lemon slices on the planks.
Place the salmon fillets skin side down on planks and season liberally with the potlatch seasoning.
Top each fillet with other half of lemon slices.
Place the planks on the grill, close the lid and cook until the internal temperature of the salmon is 120-130°, about 7-9 minutes.
Remove from the grill and serve immediately.  You can serve directly on the planks or remove it from the plank.
NOTES: There are several ways to test for doneness when grilling fish.  These tips are from Chris @NIBBLE ME THIS from the Cooking Fish Fundamentals lesson at Rouxbe Online Cooking School.
Test for doneness early and often.
A rough guide is 10 minutes total per inch of thickness.
Cook to an internal temp of 120-140° but fish with dense flesh (tuna, salmon) can be done at 120f.
Check the inside flakes at the thickest place.