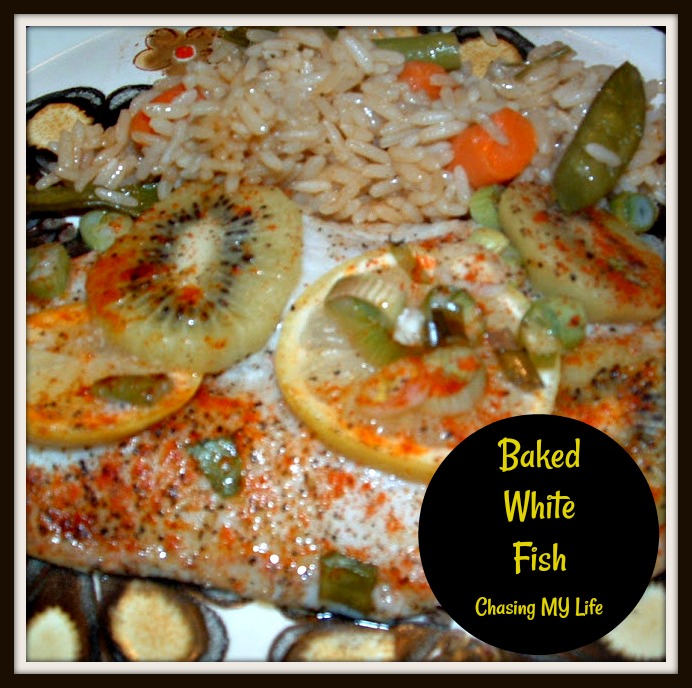 BAKED WHITE FISH
2 teaspoons peanut oil
1 small bunch green onions, sliced thin
1 teaspoon paprika
2 small kiwis, cleaned and sliced thin
2-4 white fish, cleaned and scaled, 2 pounds each
salt & pepper to taste
3 tablespoons white wine
3 tablespoons CHAMPAGNE DRESSING (recipe below or substitute fish or chicken stock)
2 tablespoons butter, melted
1 lemon, sliced
This will work with other whole lean fish and cuts or 'roasts' of halibut or pink salmon.
Adjust the cooking time according to the thickness and density of the fish.
Preheat oven to 400°.
Spray baking dish well with non-stick spray.
Rinse the fish well inside and out, pat dry, season lightly with salt, pepper and paprika and lay side by side in a shallow baking dish.
Layer lemon slices loosely over fish and season again.
Pour  the stock, dressing and ending with the butter over each filet.
Make a loose tent of foil over the tail of the fish and place in the oven.
Bake, rotating the pan once halfway through the cooking time, until a skewer easily enters the thickest part of the fish, 25 to 30 minutes.
Taste for seasoning and adjust if necessary.
Save