Last weekend we went to dinner with my uncle at Olive Garden.  Usually I love Olive Garden, but this meal was not so.  My husband and I both ordered their Carbonara with chicken and shrimp.  It was the blandest, most flavorless pasta I had ever eaten.  It really left me craving an authentic style Italian Carbonara so I decided to make some here at home that was more similar to one of my favorite Italian restaurants from our old town. I added a bit of chopped chicken scallopini for some extra protein.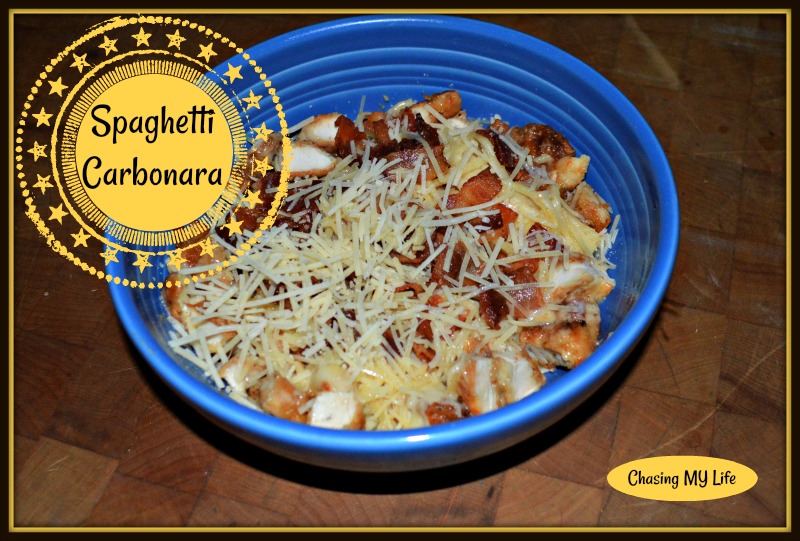 SPAGHETTI CARBONARA
1/2 pound spaghetti
4 large slices pancetta, diced small (quality bacon works also)
1 egg + 2 yolks
1/2 cup grated Pecorino Romano cheese
1 tablespoon coarse salt
Freshly ground black pepper
In a large pot, add the salt to the water and bring to a boil.
Add the spaghetti and cook until al dente.
Reserve some cooking water and then drain it.
While pasta is cooking, heat a large skillet over medium heat.
Add bacon and sauté for around 3 minutes. Drain on paper towels.
In a bowl, beat the egg and the yolks with pecorino cheese and a sprinkling of pepper.
Add the drained spaghetti to the skillet with the pancetta and toss for a minute or so over medium heat.
Transfer into the bowl with the eggs/pecorino mixture, stirring until the egg sauce thickens.
Add some cooking water if the sauce is too thick or more cheese if it's too liquid.
Season with some fresh ground black pepper and a sprinkling of cheese.
Serve immediately in a warmed bowl.
Save
Save