A true Panzanella is made with stale Italian bread, but croutons can be used in a pinch for a quick week night meal. It also calls for prosciutto, but I rarely have that on hand and have found that bacon works just as well for my family. Personally, I do not like olive oil so have substituted avocado oil and butter. You can also adjust the vegatable combinations to what you have on hand and/or your family's taste palette.  The key is the bread ratio to making this a true Panzanella salad.
At this time of year especially, I have plenty of homemade croutons for the Thanksgiving stuffing making this the perfect time to have this wonderful salad. **I use a combination of sourdough bread and hamburger buns. I tuck away in the freezer all the stale bread for several weeks/months before the holiday season just to have the versatility of flavors.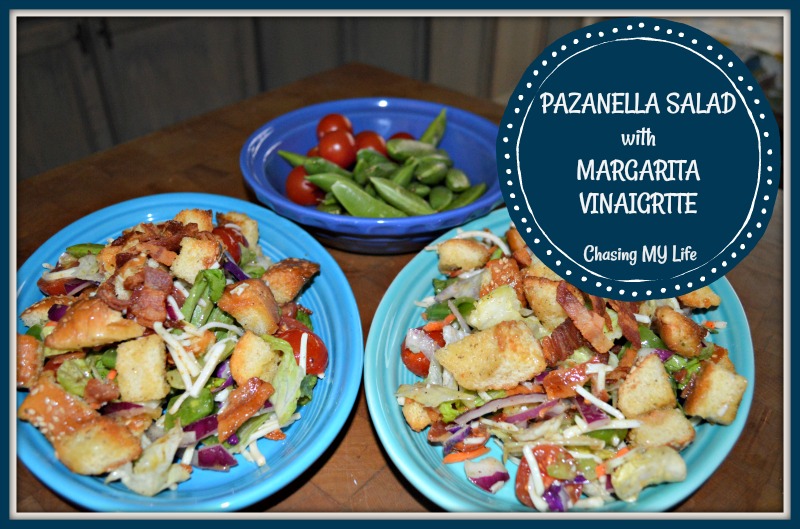 PANZANELLA SALAD
2 cups stale rustic Italian bread, torn into bite size pieces**
1/8 cup avocado oil
2 tablespoons butter, melted
1 1/2 teaspoon sea salt
1/2 teaspoon fresh ground black pepper
1 cup baby spinach
1 cup torn romaine leaves
1/3 cup diced red onion
1 English cucumber, halved and sliced
1/2 pound grape tomatoes, halved
1/4 cup fresh chopped basil
1/2 pound bacon, diced
1/2 – 3/4 cup shredded mozzarella cheese
Pepperoncinis, to taste (optional)
DRESSING          also see alternate VINAIGRETTE BELOW
1/4 cup + 2 tablespoons avocado oil
2 tablespoons Golden Balsamic Vinegar
1/2 teaspoon dried oregano
salt and pepper, to taste
Preheat oven to 300°.
Combine avocado oil and melted butter.
Add bread pieces and toss to coat.
Sprinkle with sea salt and pepper and toss again to mix.
Arrange bread pieces in a single layer and toast in oven until crisp – about 30 minutes or so.
In a large skillet brown bacon pieces in a single layer until browned and crisp. Drain. Set aside to cool.
Whisk dressing ingredients together until emulsified. Set aside.
While the bread is toasting prepare vegetables by washing and chopping.
In a large salad bowl toss together the spinach, torn romaine, red onion, basil, tomato halves, mozzarella cheese, cooled bacon pieces and cooled toast pieces.
Drizzle dressing over salad and toss.
Serve immediately.
MARGARITA VINAIGRETTE
3 tablespoons tequila
3 tablespoons fresh lime juice (2 large limes)
2 tablespoons fresh chopped cilantro, chopped
1⁄4 teaspoon ground cumin
1/2 teaspoon sugar
1⁄2 cup avocado oil
fresh ground salt and black pepper, to taste
Whisk together all the ingredients except for the avocado oil in a medium-sized mixing bowl.
Slowly incorporate the oil into the bowl with a whisk until the mixture becomes emulsified.
Season as necessary.
SHARING with FOODIE FRIDAY and TASTY THURSDAY.