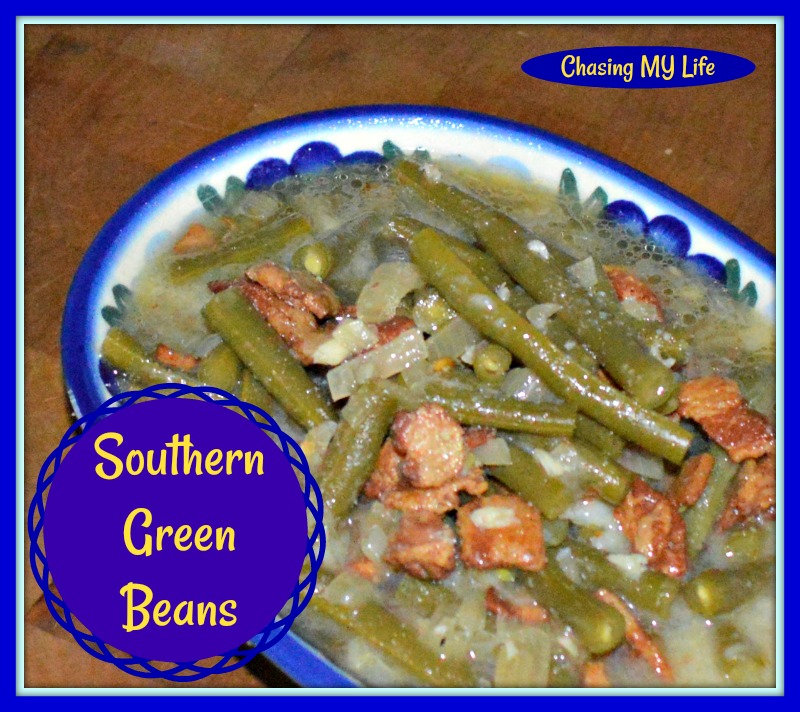 TRADITIONAL SOUTHERN STYLE GREEN BEANS akin to RAZOOS – serves 4
These green beans are cooked low and slow until soft and tender in a bacon-infused broth making them super yummy and a family favorite for any holiday.
3 slices bacon, diced
1 pounds green beans ends snapped off and longer beans snapped in half
1 large shallot, diced
2 cloves garlic, minced
1 1/2 cups chicken broth
1 1/2 cups water
1 teaspoon fresh ground Himalayan Pink salt
1/2 teaspoon fresh ground black pepper
1/2 teaspoon garlic powder
1/4 teaspoon red pepper flakes
1 tablespoon butter
In a large skillet brown and crisp bacon. Remove bacon with a slotted spoon to drain on paper toweling.
Add shallot and garlic to skillet, sautéing until fragrant.
Add green beans, water, chicken broth and seasonings to the skillet.
Bring to a boil and then reduce heat to medium-low.
Cover and simmer for 1-2 hours, stirring occasionally.
Drain beans and add butter.
Check beans for seasoning and add extra salt and pepper to taste.
Sprinkle with bacon and toss to distribute the bacon and butter.
SHARING with FOODIE FRIDAY and TASTY THURSDAY.