Do you have a recipe that calls for candied citron? Don't know what it is? Well, it's not candied lemon or grapefruit peel. Citron is an actual semitropical fruit that's similar to a lemon but with a thicker skin. To make candied citron, the citron is blanched in water, boiled in sugar syrup, and dried. It lends a mild floral note to fruitcakes and other such confections. While I love candied citron know that you have other options. Each shines in a different way, but they can pretty much be used interchangeably in most recipes, so if you happen to have one kind on hand, try that in your recipe.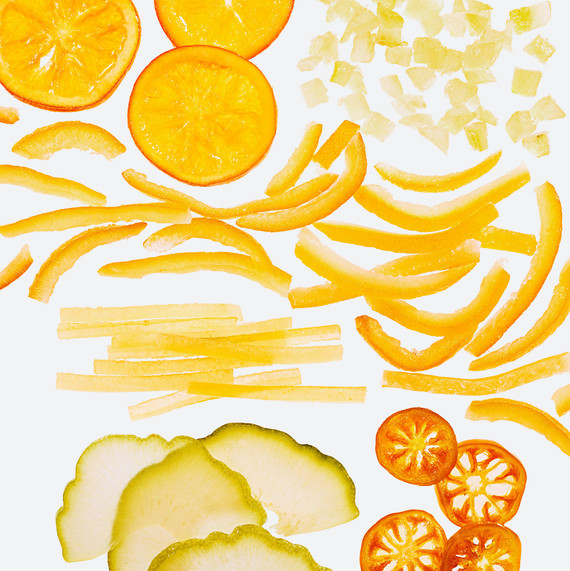 ORANGE SLICES (Top Left) – They're great as a decorative flourish on top of cupcakes.
CITRON PEEL (Top Right) – Though the pulp is sour, the candied peel is perfect for baking into stollen or stirring into granola.
LEMON RIND (Middle Left) – Finely chop it and mix into muffins and pancakes for a bright flavor.
ORANGE PEEL (Middle Right) – Dip pieces in dark chocolate and serve as an after-dinner treat.
CITRON SLICES (Bottom Left) – Serve thin slices as part of a holiday cheese plate.
CLEMENTINE SLICES (Bottom Right) – You can also garnish cocktails with these.
Candied citrus is available at specialty stores (especially around the holidays) and online at stores like junetaylorjams.com, but you can also easily make your own at home. Either way, store it in an airtight container in a cool, dry place for up to a month.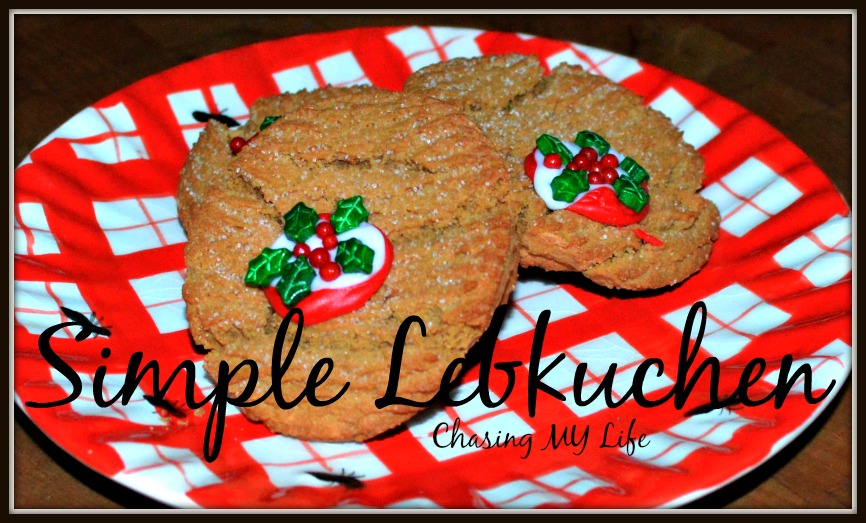 LEBKUCHEN
Traditional Lebkuchen German Christmas cookies are a form of gingerbread descended from medieval times and taste spicy and nutty in flavor. They were typically a combination of spices, honey, and dried bread crumbs. They are often cut into "sugar" cookie shapes and ornately decorated. I made a super "simple" version this year for hubby since I am unable to make neighbor plates and do my normal holiday baking.
Prep time: 15 minutes.
Cook time: 10-12 minutes.
Makes 12 servings.
COOKIES
½ cup honey
½ cup molasses
¾ cup brown sugar
1 LARGE egg
1 tablespoon lemon juice
1 teaspoon lemon zest
2¾ cup flour, plus flour for dusting
½ teaspoon baking soda
1 teaspoon each ground cinnamon, cloves, allspice & nutmeg
⅓ cup candied citron, diced (I prefer candied ginger)
⅓ cup hazelnuts, finely chopped
ICING
1 cup sugar
¼ cup milk
½ teaspoon PURE vanilla extract
½ cup confectioners' sugar
GARNISH
Sliced almonds
Candied citron or ginger
Melted chocolate
In a medium saucepan, bring honey and molasses to a boil.
Remove from heat; stir in brown sugar, egg, lemon juice and zest.
In a large bowl, combine flour, baking soda and all spices, and stir in molasses mix, citron and hazelnuts. Cover; chill overnight.
Preheat oven to 350°.
Line baking sheets with parchment paper.
On a floured, hard surface roll out a small amount of chilled dough to ¼-inch thick. If dough is sticky, use more flour.
Cut dough in 2-inch rounds or shapes; transfer to prepared baking sheets.
Bake 10-12 minutes.
Meanwhile, make icing by heating sugar and liquids in a small saucepan (do not boil).
Remove from heat; stir in confectioners' sugar. If icing crystallizes, reheat and add a touch of water or milk.
Transfer cookies to rack and while still hot, brush with icing and decorate with almonds, citron, ginger or sprinkles; or, let cool completely and drizzle with melted chocolate.
Store in sealed container.