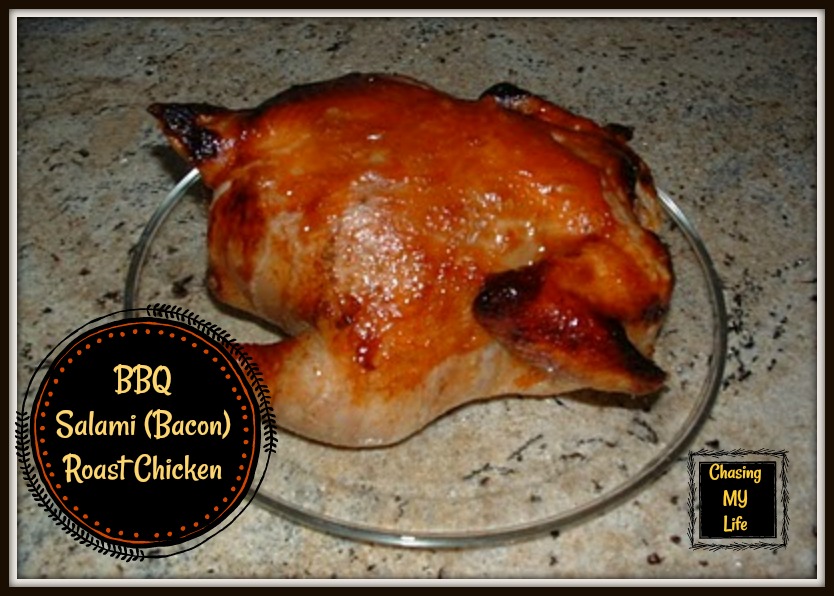 Several years ago I found an awesome sale on roasting chickens and more importantly found this awesome 8 pound bird.  Yep, I said 8 pounds.  We got several meals out of this one!  As for the leftovers, we had a Chicken Caesar salad and some Chicken a la King – which we hadn't had in eons!
I wrote the recipe though based on a standard size bird. I also swear I had bacon in the meat keeper, but it wasn't there so we made it with hard salami and guess what?  It was awesome!  Honestly the main purpose of the meat is to keep the moisture in.
BBQ BACON SALAMI ROASTED CHICKEN
3-4 pound roasting chicken
6 slices bacon, cut as necessary
1 cup favorite BBQ sauce
1/2 cup chicken broth
salt and pepper to taste
3 stalks celery, washed and halved lengthwise
3 large carrots, washed and halved lengthwise
Preheat oven to 325˚.
Clean and wash the chicken well.
Layer celery and carrots on bottom of roasting pan.
Pour broth over vegetables.
Generously salt and pepper chicken.
With a silicone basting brush, brush chicken with a layer of BBQ sauce.
Basket weave the bacon together over the entire chicken.
Brush another coat of BBQ sauce over the bacon.
Roast chicken uncovered.
Baste with BBQ sauce every 1/2 hour.
RULE OF THUMB FOR ROASTING CHICKEN:  
30 minutes per pound up to 3 1/2 pounds.
22-25 minutes per pound over 3 1/2 pounds