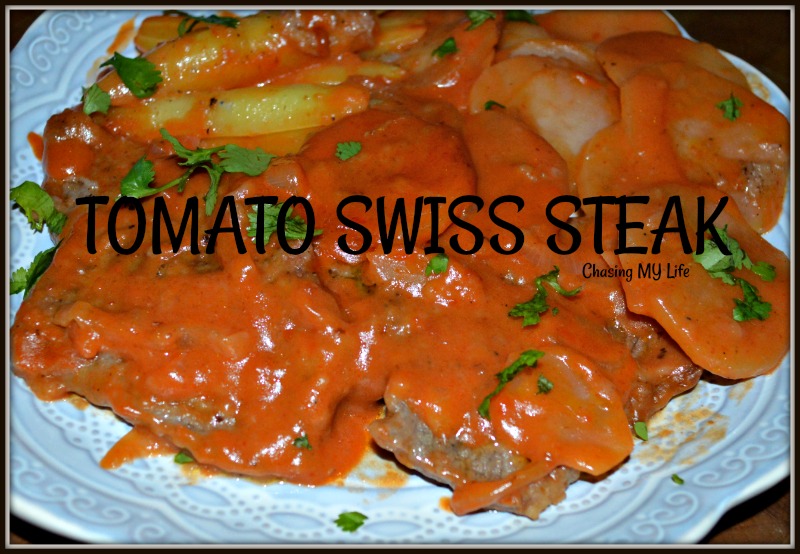 I recently ran across a recipe for "Swiss Steak en Casserole" from an old 1958 booklet of recipes that was quite similar and it reminded me of this recipe I make primarily in the winter because of its "comfort" quality of rib sticking goodness, which means I haven't made it in a few years since it hardly gets cold here.
I have NO idea why this is called Swiss Steak. I just know my mom called it that and so did her mom. Grams said it had something to do with how the meat is prepared, but don't quote me on that! That conversation was eons ago. But, as I typed this my curiosity got the best of me so I looked it up.
According to Wikipedia, "Swiss steak is meat, usually beef, prepared by means of rolling or pounding, and then braising in a cooking pot of stewed tomatoes, mushroom sauce, or some other sauce, either on a stove / log (cooker) or in an oven. In England and in some parts of the United States such as the Deep South, it is also called smothered steak. The dish does not stem from Switzerland, as the name suggests, but from the technique of tenderizing by pounding or rolling called "swissing". So that was clear as MUD 😀
Mom used to add sliced green peppers and I ALWAYS picked them out so I don't bother to add them now. Green peppers and I are NOT friends – never have been, never will be especially now with no stomach tolerance. I do use quite a bit of FRESH ground tri-color peppercorns instead. I remember it sometimes being served with mashed potatoes, but I prefer the sliced potatoes cooked in the sauce. I cannot be sure of the original measurements or even the original ingredients as I have adjusted it over an over through the years to suit our tastes. I know the original recipe called for water, but I love using the buttermilk as it makes a thicker, more flavorful gravy.
I also remember a similar recipe using a brown style gravy with mushrooms that was using this same cut of meat like a faux stroganoff.
TOMATO SWISS STEAK
2 tablespoons butter
1 1/2 to 2 pounds of tenderized round steak
2 tablespoons flour
1 teaspoon FRESH ground sea salt
1-2 teaspoons FRESH ground tri-color pepper
1 large shallot, sliced
1 can Campbell's Tomato Bisque Soup
1/2 cup buttermilk
2 Yukon potatoes, sliced thin
1-2 tablespoons champagne vinegar
1/2 cup chopped bell pepper (optional)
Preheat oven to 350°.
Cut the round steak into 6 to 8 serving-size portions.
Add flour into a shallow bowl. Season well with salt and pepper.
Generously season each piece of meat on both sides.
Dredge each steak in flour mixture, pushing down to secure flour to meat.
Melt the butter in a large skillet over medium heat.
Quickly brown each piece of meat and the remove it.
Add the shallot and bell pepper if you are using it, stirring to sauté for a few minutes, scrape up bits from bottom as you go. Scoot shallots and peppers to the edges of the pan.
Alternately layer potato slices in the middle of the shalllots.
Whisk together the tomato bisque and buttermilk.
Add meat pieces over top of the potatoes.
Pour tomato soup mixture over everything.
Cover and bake 40 minutes or until potatoes are tender.
NOTES:
Using the vinegar makes a tangier sauce – just depends on your mood. 😀
In the winter I like to make this with sliced carrots also which add some GREAT color.
I also sometimes make this with sliced baby red peppers instead of green peppers.
Linking to FULL PLATE THURSDAY at Miz Helen's Cottage.