With my current health issues I have been trying very hard to come up with savory meals that have ZERO sugar.  We make these occasionally, but they are going to become the go to pancake recipe in the future.
I found this recipe in a magazine and found it just intriguing enough to try. I made just a few very small changes (the first time):
It called for regular cheddar and I used white cheddar.
It called for 3 slices of bacon and I used 4.
It had you serving with just butter which we tried and then we added maple syrup which was a serious plus in our book.
It also said it would make 8 pancakes and I got 11.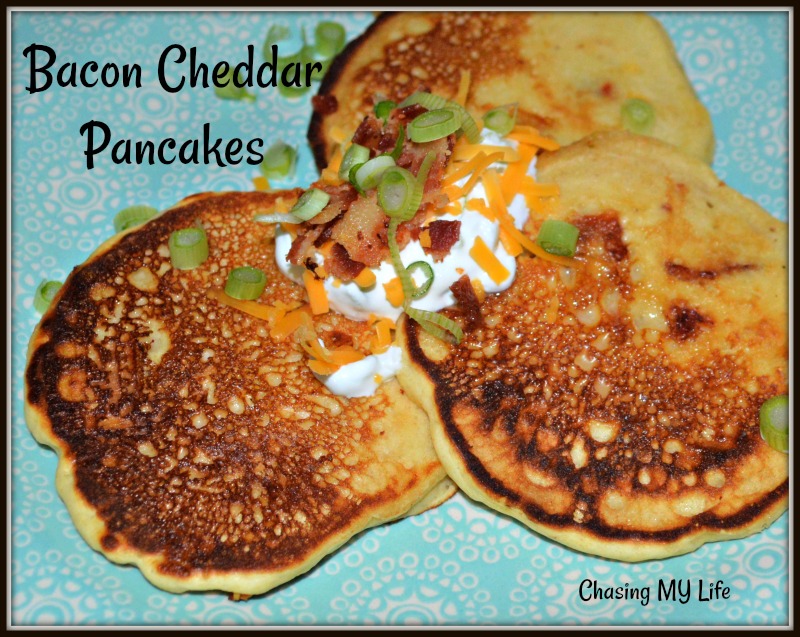 Then, this last time I amended it a little more for flavor.
BACON CHEDDAR PANCAKES
1/2 cup all purpose flour
1/2 cup corn flour
1 tablespoon cornmeal
1 teaspoon baking powder
1 teaspoon baking soda
1/8 1/4 teaspoon sea salt
1/2 teaspoon FRESH ground pepper
1 cup + 2 tablespoons buttermilk
1 LARGE egg
4 slices bacon, cooked and crumbled – 3 crumbled into batter, 1 crumbled for garnish
2 green onions, sliced thin, save a little for garnish
1/4 cup grated white cheddar cheese + a little for garnish
Sour Cream

Preheat skillet and spray with non-stick cooking spray or melt butter**.
Sift together the flours, cornmeal, baking powder, baking soda, salt and pepper until well blended.
Whisk together the egg and buttermilk.
Add wet ingredients to dry, whisking only until incorporated well.
Fold in bacon, green onions and cheese.
Using 1/4 cup measure scoop batter onto prepared skillet.
Turn when you see bubbles on the entire pancake surface.  If you wait for the bubbles you will need to only flip once and pancakes should be golden.
Cook until golden.
**NOTE: I prefer butter for a little extra flavor.