I've been making packs like this since girl scouts, but they keep getting a little more flavorful and "elegant" as time goes on. Hubby also wanted smothered beans tonight and what a HAPPY accident that was.  The sauce from the chicken merged with the sauce from the beans and voile' we entered the mega flavor zone. I will make these two recipes together from now on.
The beauty of the HOBO CHICKEN recipe is that you can mix and match the chicken pieces to each person's likes and dislikes. You can also do the same with the sauce.  I'm deathly allergic to mustard, but hubby loves it so after I pour half the sauce over mine, I add a tablespoon of Dijon mustard to his sauce and then pour it over his.  I then label the packets well! 😀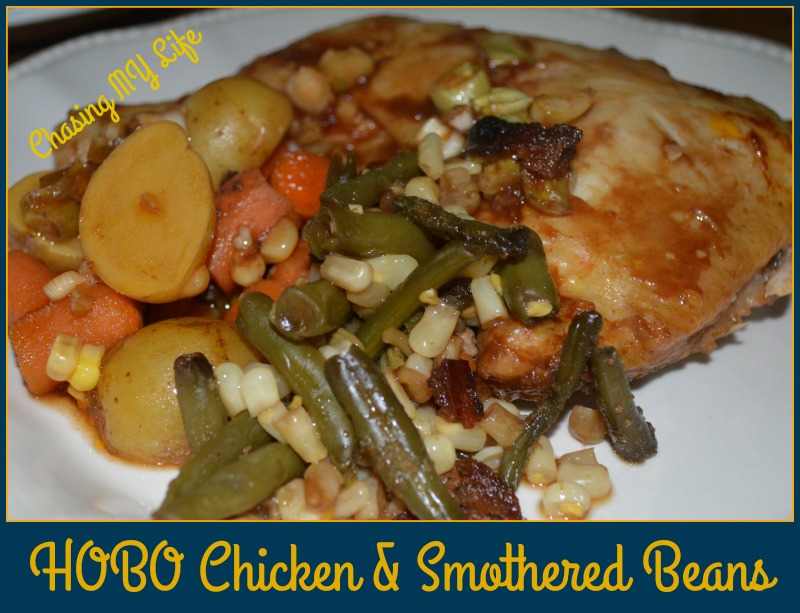 HOBO CHICKEN serves 4
4 skinless chicken breasts or 8 skinless chicken thighs or any combination you like
2 large carrots, sliced
2 cans white shoepeg corn
4 green onions, sliced
1 tablespoon sesame seeds
1/3 cup Bragg's Liquid Aminos
1/2 cup Country Bob's All Purpose sauce
3 tablespoons Hoisin sauce
2 cloves garlic, minced
Cut 4 large (12×18) heavy duty squares of foil.
Lightly spray foil with non-stick cooking spray.
Place equal portions of corn and carrots in the center of each piece of foil.
Top with chicken pieces.
Sprinkle with green onions.
Sprinkle with sesame seeds, saving a few for garnish at the end.
In a small bowl whisk together the liquid aminos, hoisin sauce, garlic, and Country Bob's sauce.
Divide evenly and spoon over chicken.
Using the long edges bring up the edges and fold into a large fold.
From the opposite side, bring up edges to seal seams loosely so there is enough room for heat circulation.
Heat grill to low-medium.
Grill covered at 350-400 degrees for 35-40 minutes until chicken is cooked through.
Open foil, sprinkle with remaining sesame seeds and serve immediately.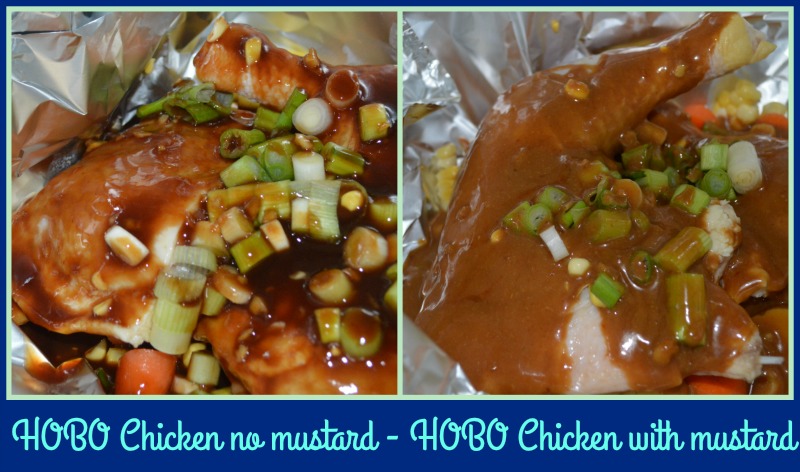 SMOTHERED GREEN BEANS AND CORN
2-15 ounce cans green beans, WELL drained
1 12 ounce can white shoepeg corn, WELL drained
1/2 pound bacon, diced
1/3 cup brown sugar
2 tablespoons butter, melted
2 tablespoons Bragg's Liquid Aminos
3/4 teaspoon garlic powder
Preheat oven to 350°.
Pour drained green beans and corn in an 8×8 inch pan.
In a large skillet, cook bacon until almost done but not too crispy. Drain on paper towels.
Sprinkle cooked bacon on top of green beans.
Whisk together brown sugar, melted butter, liquid aminos and garlic powder.
Pour over green beans.
Bake uncovered for 40 minutes.