Giving up sugar is the HARDEST thing I have ever had to do. And since it will NEVER change I'm still working to take some favorite recipes and rework them into less sugary meals so I can eat them.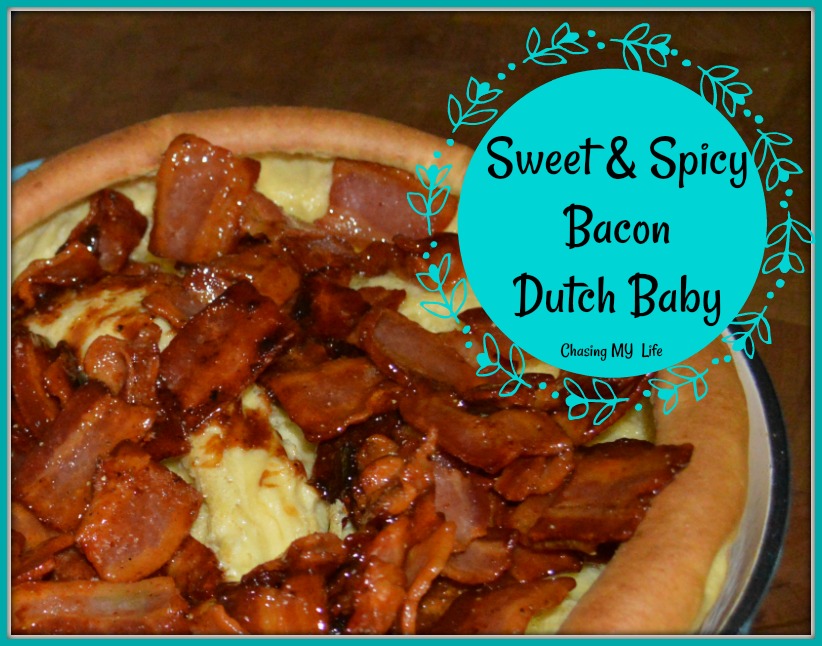 SWEET & SPICY BACON adapted from GIADA
1 pound slab bacon, cut into 1-by-1/2-inch pieces **
1/4 cup PURE maple syrup
1/2 teaspoon FRESH ground black pepper
1/8 teaspoon cayenne pepper 2 tablespoons FRANK'S original hot sauce
Place the bacon in an even layer in a large skillet.
Cook over medium-low heat, stirring often with spatula until the bacon is light golden brown, about 20 minutes.
Whisk together the maple syrup, black pepper and Frank's in a small bowl.
Pour off some of the rendered bacon fat, leaving just a small amount.
Return the skillet to the heat and pour the maple syrup mixture over the bacon.
Braise gently until the syrup thickens and glazes the bacon and the bacon is deep golden brown, about 15 minutes.
Serve warm.
DUTCH BABY PANCAKE
3 tablespoons butter
3 eggs
3/4 cup milk
2 teaspoons PURE vanilla
3/4 cup flour
1 tablespoon sugar
1/2 teaspoon sea salt
1 teaspoon lemon zest, from 1 lemon
OPTIONAL
2 tablespoons powdered sugar, to garnish
Berries, whipped cream, jam or maple syrup if desired
Preheat the oven to 400°.
Place butter in a 10-12 inch enameled cast iron skillet and place skillet in the hot oven to heat up while you mix the batter.
In a small bowl whisk together the eggs, milk and vanilla until smooth.
In a separate medium bowl whisk together the flour, sugar, salt and lemon zest.
Add the wet ingredients to the dry ingredients and use an electric beater to fully incorporate the wet and dry together until smooth.
Allow the batter to rest for 5 minutes.
Remove the pan from the oven and swirl butter over all sides.
Pour the batter into the center of the pan and place the pan in hot oven.
Bake for 20 to 25 minutes or until puffed and brown around the edges and set in the center.
Remove from the oven and dust with powdered sugar. The pancake will immediately start to collapse.
Top with bacon pieces or berries and whipped cream.
Dust with powdered sugar and add berries if desired.
NOTES**
Any leftover bacon is PERFECT in a homemade baked BBQ bean recipe.
SLAB bacon can be hard to find. When I can't find it, I use thick sliced and cut it into 2 inch pieces.
LINKING TO: CELEBRATE YOUR STORY, CRAFTASTIC MONDAY, DISHING IT & DIGGING IT, NIFTY THRIFTY SUNDAY, SHOW & TELL, SUNDAYS AT HOME, SUNDAY'S BEST, THAT DIY PARTY, JCOOKING & CRAFTING WITH J&J, INPIRATION MONDAY , INSPIRE ME MONDAY , MADE BY YOU MONDAY, MAKE IT PRETTY MONDAY, MELT IN YOUR MOUTH MONDAY, MERRY MONDAY, MIX IT UP MONDAY, MOTIVATE ME MONDAY, PROJECT INSPIRED, SHOW AND SHARE, TUTORIALS & TIP , DIY TUESDAYS, LOU LOU GIRLS FABULOUS PARTY, THE SCOOP, TREASURE BOX TUESDAY, TUESDAYS AT OUR HOME, TUESDAYS WITH A TWIST, CREATIVE INSPIRATIONS, SHARE YOUR CUP , WINTER BLUES WEDNESDAY, WONDERFUL WEDNESDAY, SHOW ME WEDNESDAYS, WOW US WEDNESDAY , CREATIVE CIRCLE, DAGMAR'S PARTY, HOME SWEET HOME, FAVORITE THINGS, GRACE AT HOME, HOME MATTERS, PIN JUNKIE PIN PARTY, TALK OF THE TOWN, BLOGGER'S PIT STOP, HANDMADE HANGOUT, PRETTY PINTASTIC PARTY, SHARE IT ONE MORE TIME, SWAY SHAREFEST, WHAT TO DO WEEKENDS PARTY, BOUQUET OF TALENT PARTY, INSPIRE-BE-INSPIRED, RAE GUN BLOCK PARTY, I'M LOVIN' IT, THIS IS HOW WE ROLL THURSDAY, FULL PLATE THURSDAY, FOODIE FRIDAY, SOUPER SUNDAY, BETH FISH READS