Guisada is a a TEX MEX style of beef stew that is normally cooked slowly in a brown gravy. It can be eaten as a stew, but we prefer to eat is at street tacos. This is one of the most tender meats for yummy tacos. Using the green chile verde sauce adds a ton of flavor.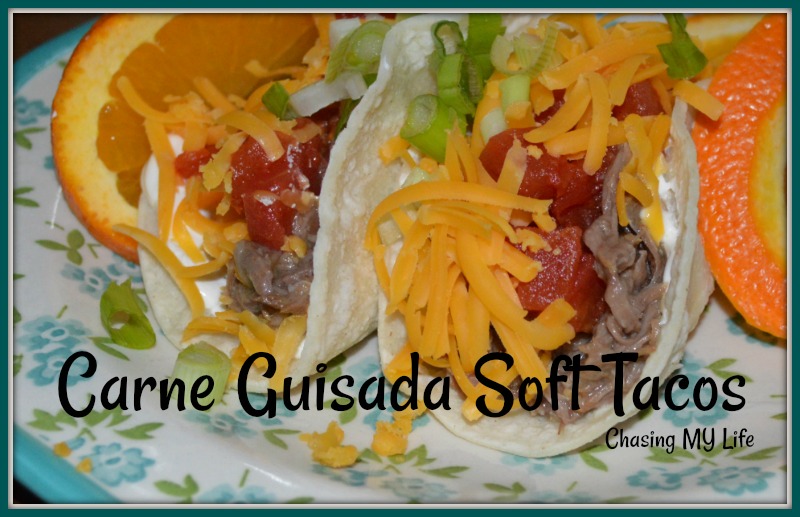 CARNE GUISADA STREET TACOS serves 8-10 (my easy version)
Avocado oil
2 pound chuck roast
2 medium poblano peppers, seeded and chopped
1 large shallot, sliced
1 Vidalia onion, chopped
3 cloves garlic, minced
FRESH ground sea salt and black pepper, to taste
1-2 teaspoons ground cumin
1-2 teaspoons chili powder
1 large tomato, chopped
1 large tomatillo, chopped
1 can green chile verde sauce
1/2 cup beef broth
2 tablespoons WONDRA flour
1/4 cup Mexican corn flour
1/2 cup water
Preheat oven to 325°.
Generously season roast with salt and pepper.
Heat oil in a 4-quart stock pot over medium temperature.
Add roast and sear each side well.
Remove roast to a plate.
Add poblano pepper, onion, garlic to the stock pot along with the seasonings for a couple minutes.
Stir in tomato and tomatillo and sauté an 3 additional minutes.
Nestle roast into mixture.
Whisk together chile verde sauce, broth and flour until smooth.
Pour broth mixture over beef mixture.
Cover with foil and place in oven for 3 hours undisturbed.
Use 2 forks to shred beef into gravy.
Make a slurry of the water and corn flour.
Add slurry to mixture and simmer on stove top 10-15 minutes until the liquid is absorbed.
Serve with tortillas and your favorite toppings.
Enjoy!