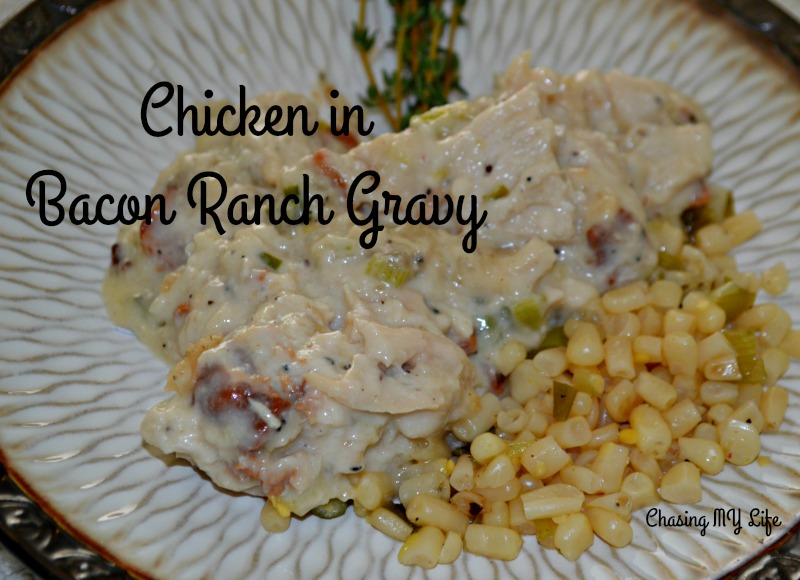 This is a wonderful fall or winter recipe!
SLOW COOKER CHICKEN with BACON GRAVY serves 4
adapted from Sarah Olson
1.5 pounds boneless skinless chicken breasts
FRESH ground pepper, to taste
4 sprigs FRESH thyme
2 bunches green onions, sliced thin
2-4 cloves garlic, minced
6-8 slices bacon, diced and cooked crisp
1 Pioneer country gravy packet dry mix DO NOT PREPARE PER PACKAGE
1 Hidden Valley Ranch Dressing packet dry mix DO NOT PREPARE PER PACKAGE
2 1/4 cups water
1 cup heavy cream
Spray slow cooker with non-stick spray.
Add the chicken to the slow cooker.
Generously salt and pepper the chicken breasts.
Add the garlic, green onions and bacon.
Lay thyme sprigs on top.
Whisk together the gravy mix and ranch dressing packets water until smooth.
Pour the gravy mixture over the chicken.
Cover and cook on HIGH for 3 hours without opening the lid during the cooking time.
Remove the chicken and shred with 2 forks.
Stir heavy cream into gravy mixture until well blended.
Return chicken to gravy mixture and stir to coat well.
Serve over mashed potatoes.