Looking for the perfect summer meal without turning on the oven or grill? Well, here it is, the PERFECT summer salad full of flavor and satisfying to everyone. I make the dressing in a double batch so there is always extra and preparing the bacon the night before after the sun sets keeps you cool too.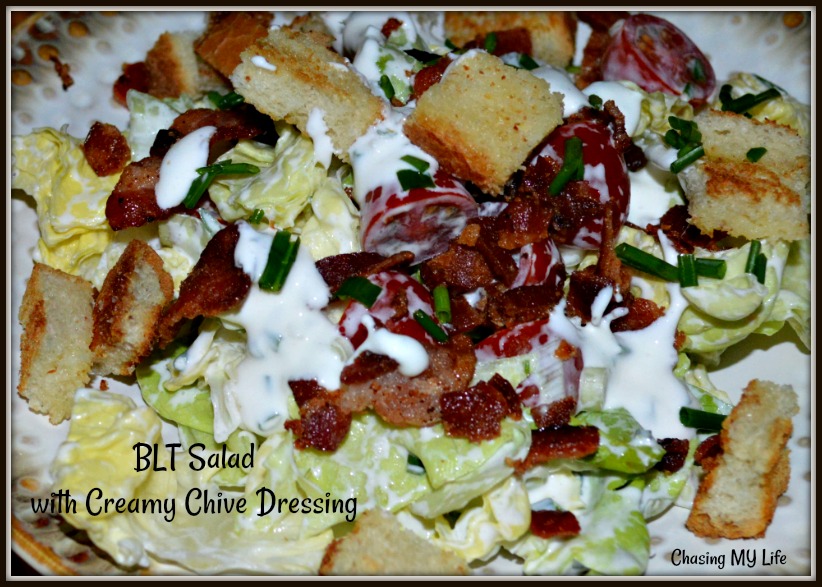 BLT SALAD with CREAMY CHIVE DRESSING
12 ounce package center cut bacon, cooked crisp and crumbled
2 tablespoons apple cider vinegar
2 cloves garlic, minced
FRESH ground sea salt, to taste
FRESH ground black pepper, to taste
3/4 cup sour cream
1/4 cup finely minced FRESH chives
2 tablespoons avocado oil
1-2 tablespoons buttermilk (yep, that reads milk :D)
1 head green leaf or Bibb lettuce, torn into pieces
1 package grape tomatoes, halved
1 bunch green onions, thinly sliced OR 1/3 cup finely chopped red onion
8 ounces of sourdough bread, WELL toasted, lightly buttered and cut into cubes
Whisk together the vinegar, garlic and salt. Let stand 10 minutes. This will help mellow the flavor a bit.
Whisk in sour cream and avocado oil until well blended.
Fold in chives.
Thin with milk to desired consistency.
In a large salad bowl toss together the lettuce, tomatoes, onions and bacon pieces.
Fold in toasted bread pieces.
Season to taste with FRESH ground salt and pepper.
Drizzle with dressing.
Garnish with additional chives and ENJOY!