This recipe is rich tasting, but is actually light and delicate. It makes a WONDERFUL dish for serving to company. Tastes like your worked on it ALL day.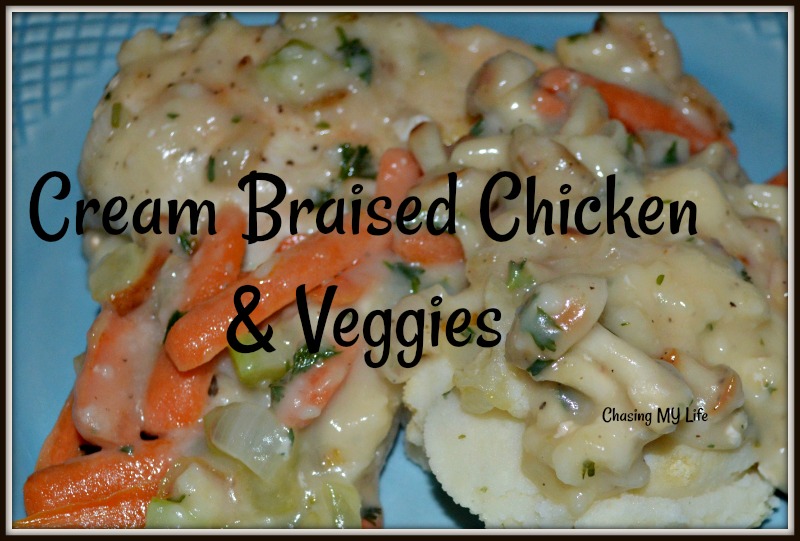 CREAM BRAISED CHICKEN & VEGGIES
1/2 pound pearl onions**
1 small Vidalia onion, halved and sliced
2 large carrots, sliced on the diagonal
2 stalks celery, sliced thin
6 boneless chicken breasts
1 + 1 tablespoons butter
1 cup white wine
1 1/3 cups chicken stock
1 tablespoon FRESH chopped parsley
1 tablespoon FRESH chopped thyme
3 tablespoons WONDRA flour
FRESH ground sea salt and black pepper
1/2 cup milk
1/2 pound beech mushrooms***
In a large dutch oven bring 3 cups of water to a boil.
Add pearl onions and boil for 3 minutes.
Drain and rinse in cold water.
Peel and set aside.
Melt 1 tablespoon of butter in the dutch oven.
Add onions, carrots and celery. Saute' until tender.
Remove veggies and set aside.
Add the chicken to the pan in a single layer. Brown on both sides. Remove chicken and keep warm.
Add wine to pan and simmer until reduced by half.
Stir in broth, parsley, thyme, salt and pepper.
Return chicken to pan and simmer 5 minutes until chicken is cooked through.
Remove chicken to platter and keep warm.
Whisk together the milk and flour until smooth.
Gradually whisk milk mixture into broth in pan and bring to a SLOW boil until thickened.
Add veggies back into sauce, stirring to coat.
In a separate skillet heat remaining butter until melted and sizzling.
Add pearl onions and mushrooms, sautéing until tender.
Add onions and mushrooms to the chicken platter.
Spoon sauce over chicken and veggies.
NOTES:
**Pearl onions can be a real pain if you're in a hurry so I will buy several bunches of the small bulb onions and just halve them.
***Beech mushrooms are a type of oyster mushroom that has a wonderfully nutty flavor when cooked that adds to any sauce.  These mushrooms are a bit bitter when used raw, but they are ideal for soups and stews or stir fries.