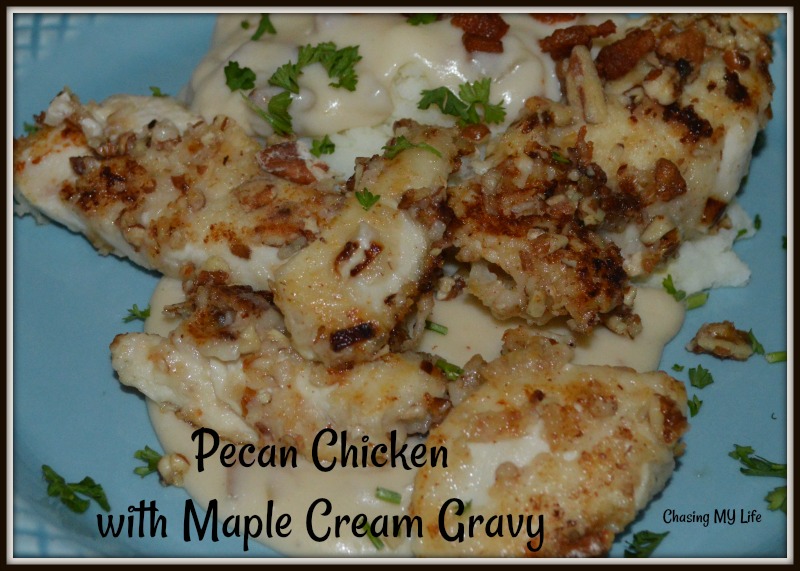 PECAN CHICKEN with MAPLE CREAM GRAVY

CHICKEN
6 skinless, boneless chicken breasts or 2 pounds chicken tenders
1 cup buttermilk
Avocado oil or your favorite for frying or just plain old crisco
3/4 cup FINELY chopped or crushed pecan pieces
2 cups all purpose flour
2 tablespoons FRESH ground Himalayan pink salt
FRESH ground black pepper, to taste
Place chicken in large ziplock bag with buttermilk.
Chill for 8 hours.
Pour oil to a 1 inch depth in your favorite deep skillet, preferably cast iron.
Mix together the pecans, flour, salt and pepper.
Remove chicken from bag and discard marinade.
Dredge chicken in flour mixture, shaking off excess.
Fry chicken 6-7 minutes on each side until cooked through.
Drain on wire rack.
Keep warm.
MAPLE CREAM SAUCE
4 slices thick bacon, diced
1 shallot, minced
3 tablespoons Wondra flour
1/2 cup PURE and QUALITY maple syrup
1/4 cup whole grain mustard (optional)
1/3 cup bourbon
2 cups heavy cream
FRESH ground sea salt and black pepper
Cook bacon until crisp.
Using a slotted spoon remove bacon to paper toweling to drain.
Add shallots to bacon grease and sauce 2 minutes or so until tender.
Add flour, stirring constantly until golden.
Add syrup, bourbon and mustard if using. Stir constantly until thickens.
Add cream, stirring constantly 5-7 minutes until desired consistency.
Fold in bacon.
Plate chicken
Serve with mashed potatoes.
Ladle sauce over chicken and potatoes.