I'm posting this recipe for my nieces while I keep looking for the one I actually promised them.
Before we get into the recipe I thought I'd share a little about crust making.
PERFECT BLUE RIBBON PIE CRUST TIPS
There is nothing as good as a flaky, buttery, tender homemade crust in my opinion. Sure, remade is convenient, but it just doesn't compare. You DON'T have to be a BLUE RIBBON baker to make a great crust either.
Pie dough is basically three simple ingredients; flour, fat and water in EXACT, or at least near exact proportions.
While you supposedly don't need to sift flour anymore, you do need to stir it up to make it fluffy before measuring. Personally, I still use a sifter. Use a spoon to put the flour in your measuring cup and a knife to level it off. Just scooping into the flour bin tends to pack the flour too tightly.
Be SURE to use COLD fats whether it's butter, shortening or lard. This is a step that helps make your crust flaky. If you're recipe calls for fat in a liquid form it will be more tender than flaky. When you cut in your fats STOP when you have pieces the size of peas. Anything too large will allow the dough to form holes in your crust when the fats melt. If the pieces are too small they melt too fast taking away from the flakiness of your crust.
Be sure and add your COLD water only a tablespoon at a time JUST until the dough holds together. DO NOT OVER MIX! Add just enough water to bring the dough together so you can form a ball.
BLIND BAKING (cooking the crust by itself before adding the filling) makes a stronger crust for filling. There are many tricks for doing this. One of the simplest methods is to add a piece of heavy duty folded piece of foil to the inside of the crust and gently form the foil to the pie pan shape. Partially bake the crust, remove the foil, add the filling and finish baking. You will probably want to add a piece of foil around the edges to keep your edges from browning too fast and burning. Many times I add a layer of beans on top of the foil to keep it weighted so it doesn't bubble and blister. If you're making a pie with an unbaked filling, remove the foil halfway through the baking time, prick the bottom with a fork and return the crust to the oven to finish baking.
NOTES:
TOO MUCH flour or water will make your crust TOUGH.
TOO MUCH fat will make your crust crumbly and fall apart.
TOO MUCH WATER

=

STICKY MESS
NOT ENOUGH WATER

=

BIG CRACKS IN YOUR DOUGH
TRICKS:
Use 2 sheets of wax paper when rolling your dough so you don't need to add additional flour. I prefer to do this to keep the crust from getting too tough.
Carefully roll your dough gently around your rolling pin and move it to your pie pan and gently unroll to avoid stretching or tearing it. You can also carefully fold your disc in quarters to move it to the pie plate.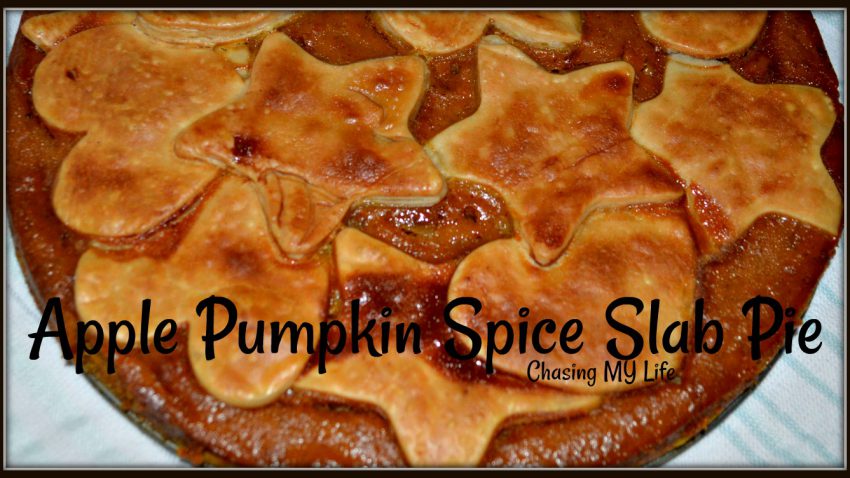 This pie tastes just like a caramel apple! The beauty though is that there is a thin and flaky crust that houses the juicy apples and crispy crust that is drizzled with homemade caramel for a melt in your mouth tasty treat.  There are 2 versions CARAMEL APPLE SLAB PIE and APPLE PUMPKIN SPICE SLAB PIE

CARAMEL APPLE SLAB PIE – 25 pieces
Prep time 40 mins

Cook time 45 mins


Total time 1 hour 25 mins
CRUST
2¼ cups all-purpose flour
¾ teaspoon salt
⅔ cup CRISCO butter-flavored shortening
8 tablespoons cold water
Spray a 15x10x1 inch jelly roll pan with non stick cooking spray and set aside.
In a large bowl combine flour and salt. Using a pastry blender cut in the shortening until it resembles coarse crumbs. Sprinkle 1 tablespoon of the cold water over the mixture and toss with a fork. Repeat using 1 tablespoon of water at a time until it is moistened and knead the dough into a ball.
Preheat oven to 375 degrees.
On a lightly floured surface, roll dough into a 19×13-inch rectangle.
Wrap it around the rolling pin and unroll it into the prepared baking pan.
Ease dough into the pan and up the sides, being careful not to stretch it.
Trim dough to ½ inch beyond edge of pan.
Fold dough edge over and flute as desired.
APPLES
⅔ cup sugar
⅓ cup all-purpose flour
2 teaspoons QUALITY ground cinnamon
3½ pounds granny smith apples, peeled, cored, and cut into ¼-inch-thick slices (about 10 cups)
In an extra large bowl combine the sugar, ⅓ cup flour, cinnamon and apples.
Toss until coated.
Spoon the mixture on the dough and spread evenly.
CRUMB TOPPING
1 cup quick-cooking rolled oats
1 cup packed brown sugar
½ cup all-purpose flour
½ cup butter
In a large bowl, stir together quick-cooking rolled oats, packed brown sugar, and all-purpose flour.
Using a pastry blender, cut in butter until topping mixture resembles coarse crumbs.
Sprinkle EVENLY on top of apples.
Bake for 40-45 minutes or until apples are tender.
Cool slightly.
NOTE: IF TOP IS BROWNING TOO QUICKLY, COVER LIGHTLY WITH A PIECE OF FOIL.
CARAMEL
1 cup PACKED brown sugar
4 tablespoons butter
½ cup half-and-half
1 tablespoon PURE Vanilla
Pinch of salt
Mix all ingredients together until smooth in a medium saucepan over medium-low to medium heat.
Cook while whisking gently for 5 to 7 minutes, until thicker.
Turn off heat.
Serve warm or refrigerate until cold.
Drizzle on top of apple slab pie.