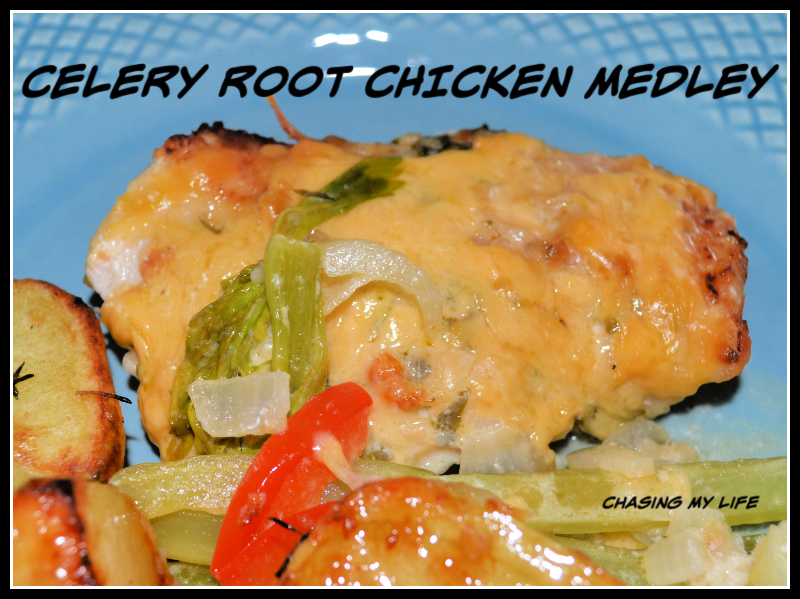 CELERY ROOT CHICKEN VEGGIE MEDLEY – serves 4
4 boneless, chicken breasts
FRESH ground sea salt and black pepper
flour for dredging
1 tablespoon butter
1 tablespoon avocado oil
1 medium onion, chopped
1 1/2 cups baby carrots
1 medium red bell pepper, sliced thin
1/2 pound celery root, peeled and grated
1/4 cup chopped Italian Parsley
Juice of 1 LARGE Lemon
1/3 cup heavy cream
1/2 teaspoon creamy horseradish
1/2 teaspoon Frank's original hot sauce
1/2 cup shredded Colby cheese
Preheat oven to 350°.
Flatten chicken breasts to 1/2 inch even sizes.
Wash and dry chicken pieces.
Generously season with fresh ground salt and pepper.
Dredge chicken pieces in flour.
Heat butter and avocado oil over medium high heat.
Sear chicken pieces quickly on both sides. Remove and set aside.
Spray baking dish with non-stick cooking spray.
Arrange onions, bell pepper slices, carrots and celery root.
Whisk together the lemon juice, hot sauce, creamy horseradish, heavy cream and parsley.
Arrange half of sauce over vegetables.
Arrange chicken pieces on top of sauce and pour remains sauce over chicken pieces.
Sprinkle with cheese.
Cover with foil using toothpicks if necessary to keep foil from touching the cheese.
Bake 30 minutes. Remove foil and bake until cheese is golden.
Serve immediately.