Somehow between picture 1 and picture 2 my camera broke a spring in my lens and now we're on the hunt for a new camera. We found an upgraded model that has the new necessary lens as well as a different long lens so hubby and I will both have camera bodies, but it is going on a Thanksgiving special for A LOT off so we're waiting to buy it!  So these pictures aren't the best quality for today.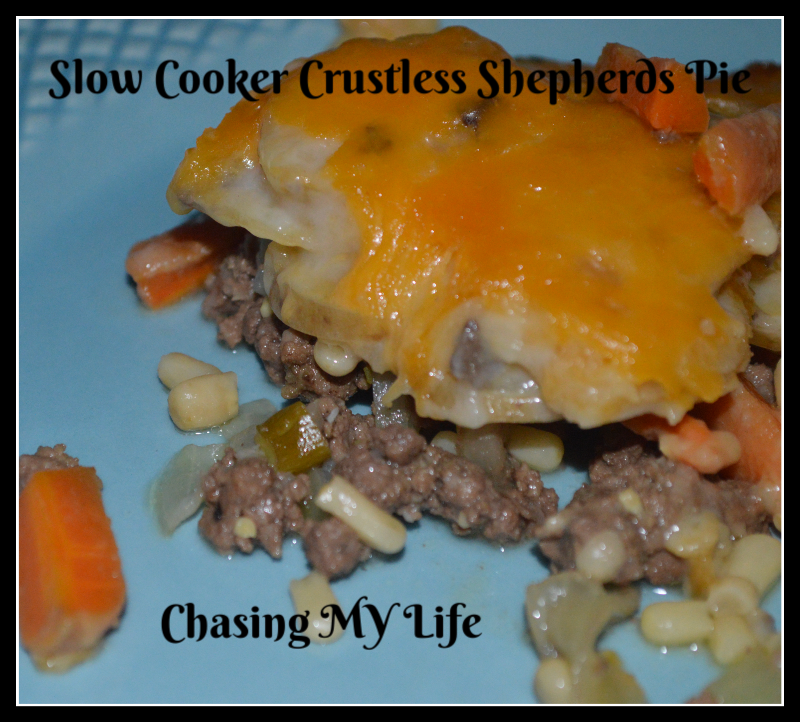 SLOW COOKER CRUSTLESS SHEPHERD'S PIE
1 pound ground beef
1 small onion, chopped
1/2 cup water
1/2 cup milk
1/2 teaspoon cream of tartar
6 medium potatoes, peeled and sliced thin
1/4 cup flour
FRESH ground salt and black pepper, to taste
2 cups diced carrots
1 cup diced celery
1 cup grated cheddar cheese
1 can Green Giant white shoe peg corn
2 tablespoons COLD unsalted butter, diced
1 can cream of mushrooms soup or 1 1/3 cup soup substitute + 1tablespoon milk
2 tablespoons snipped chives
Spray the inside of the crock pot with non-stick spray.
Brown the ground beef and onion together until there is no more pink.
Drain off grease.
Add to crock pot in an even layer.
Top with celery and carrot pieces.
Combine water and milk in a large mixing bowl.
Whisk in cream of tartar until smooth.
Add potato slices to milk mixture, coating well. This will prevent browning while slow cooking.
Drain potato slices REALLY WELL.
Evenly arrange potato slices over the carrots and celery.
Whisk together the flour, salt, pepper and half the cheddar cheese.
Sprinkle the flour cheese mixture over the potato slices evenly.
Dot with the diced butter.
Whisk together the soup and 1 tablespoon milk.
Spread soup mixture evenly over top of everything.
Cover.
Cook on low 5 hours or until the potatoes are tender.
Top with remaining cheddar cheese and cook another 20 minutes until melted and gooey.
Garnish with chives.
Cut and serve.
NOTES: Canned green beans or frozen peas make a great substitution and/or addition for the corn.