The beauty of this recipe for Thanksgiving day is that it can be prepared the day before and can be baked the next morning while you watch the parade.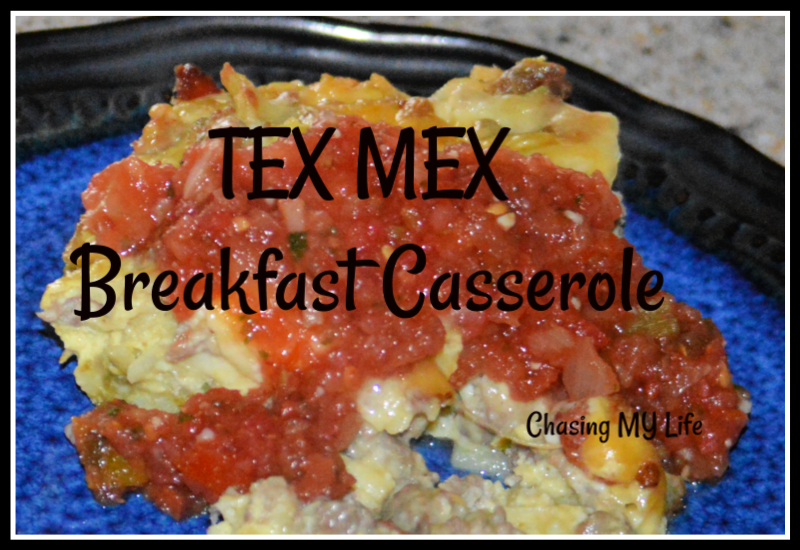 TEX MEX BREAKFAST CASSEROLE
1/2 pound ground beef
1/2 pound ground pork
1 medium onion, diced
1 jalapeno, diced
1 small can diced green chiles, drained
10 LARGE eggs
4 ounces cream cheese, softened
1/2 cup half and half
1/4 cup Cotija cheese
1/2 cup shredded Monterey Jack cheese
2 1/2 cups shredded hash browns
1/3 cup shredded cheddar cheese
Salsa
Preheat oven to 350°.
Grease a 9×13 baking dish. Set aside.
Heat a large skillet oven medium-high heat and brown ground beef and ground pork to a small crumble.
Using a slotted spoon transfer meat to a large mixing bowl.
In the same skillet reheat the grease and add the onion and jalapeno, sauteing until tender, about 10 minutes. Drain WELL and add to the mixing bowl.
Toss the shredded hash browns and sprinkle with a generous sprinkle of FRESH ground sea salt.
In another bowl whisk together the eggs, cream cheese, half and half, and 1/2 cup of the Monterey Jack cheese.
Pour over meat mixture and gently toss to coat.
Top with cheddar cheese.
Bake 20 minutes or until golden brown and eggs are set.
Serve with Salsa.