There is a bit of overlap in this category as some of these are ALSO my favorites that we did a couple days ago. But, I reward you at the end to the links for other favorites that are great for cookie exchanges or neighbor plates.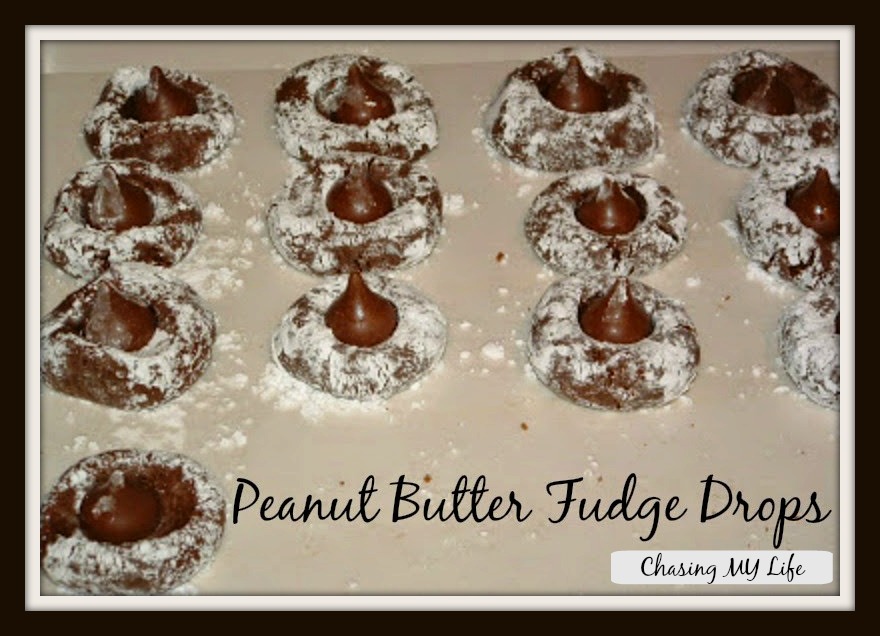 PEANUT BUTTER FUDGE DROPS
2/3 cup HOT water
10 ounces Land of Lakes cocoa mix
2 cups JIF creamy peanut butter
1/2 cup light corn syrup
3 cups C&H powdered sugar, divided 2cups + 1 cup
2 cups crushed vanilla wafers
2 cups crushed ginger snaps
72 Hershey Kisses (I like the cherry cordials)
Whisk together the hot water and cocoa mix until smooth.
Add peanut butter and corn syrup. Blend until smooth.
Add 2 cups powdered sugar and stir until well blended.
Stir in cookie crumbs until well blended.
Spray wax paper with PURE (these will be sticky so don't forget this step).
Drop heaping teaspoonfuls of dough onto the wax paper.
Place the remaining 1 cup of powdered sugar in a shallow bowl.
Roll each piece of dough into a ball and dredge in powdered sugar.
Press your thumb into the center and fill with a Hershey's kiss.
Now there is much debate over Gran's cranberry salad recipe, but one thing was for sure, she'd have to make a double batch, one for my mom and aunt and another for everyone else.  Now while I usually helped prepare the above recipe, I hated it!! One year she even decided the grapes needed to be peeled – need I say more? And recently Jean from SO NOT ORGANIZED pointed out that the grapes in the recipe seemed strange, but I'm here to tell you that they really MAKE the recipe. 😀

I much prefer the recipe below.  Shhhh, don't tell anyone, but I've already eaten a whole batch by myself.  In my defense it was while I wasn't feeling good and had a sore throat.


HOLIDAY SALAD
1 package (3 ounces) cherry Jell-o
1 package (3 ounces) black cherry Jell-o
1 1/2 cups boiling water
1 can (14 ounces) whole berry cranberry sauce
1 can (20 ounces) crushed pineapple, undrained
2 cups seedless green grapes, quartered
chopped pecans (optional)
Dissolve the jell-o in the boiling water in a large bowl.
Fold in the pineapple and cranberry sauce.
Refrigerate for 30 minutes.
Fold in grapes and pecans if desired.
Refrigerate until firm.
Now on to the REALLY yummy stuff!
~~~~~~~~~~~~~~~~~~~~~~~~~~~~~~~~~~~~~~~~~~~~~~~~~~~~~~~~~~~~~~~~~~
CHUNKY MONKEYS
3 cups crushed pretzels
1/2 cup sugar
scant 1 cup butter, melted
Preheat oven to 325 degrees.
Line a 13×9 cake pan with heavy duty foil, leaving plenty on the edges to use as handles later.  This will make clean-up so much easier.
In a medium mixing bowl stir together the pretzels, sugar and melted butter until well blended.
Press the pretzel mixture evenly into the bottom of the cake pan.
1/2 cup butter
1/2 cup whipping cream
1/4 cup packed brown sugar
11 ounce package caramel baking bits (or 14 ounce vanilla caramels, unwrapped)
2 cups honey roasted peanuts
In a medium saucepan melt butter over a medium heat.
Whisk in the whipping cream and brown sugar until sugar is dissolved.
Stir in caramel bits, stirring constantly until bits are melted and sauce is smooth.
Add in peanuts to coat well.
Immediately pour over pretzel layer, spreading evenly.
1/2 cup semi-sweet chocolate chips
1/2 cup milk chocolate chips
1/2 cup peanut butter chips
1/2 cup butterscotch chips
3/4 cup Heath milk chocolate toffee bits
Scatter each of these over the caramel layer.
Bake 25-30 minutes or until edges are bubbling.
Cool in pan on a wire rack.
Lift foil edges to remove bars from pan.
Cut into bars.
Layer between wax paper in an airtight container.  I store them in the fridge, but the can also be frozen for 3 months.
~~~~~~~~~~~~~~~~~~~~~~~~~~~~~~~~~~~~~~~~~~~~~~~~~~~~~~~~~~~~~~~~~~
My great aunt who I only got to see a couple times a year used to make these every year special for me.  My cousins and I would wait out on the front steps for her arrive just to see them, the wreaths that is. She always made them soooooooooo pretty and perfect!  Aunt Louise was just plain crazy it seemed to me.  I can't pinpoint any one thing that made me think that, but as the years wore she continually proved it.  Let's just say if the made a movie of her life, Shirley MacLaine would play her part.  Aunt Louise reminds me of Shirley's character Ouiser Boudreaux in Steel Magnolias.
CRAZY AUNT LOUISE'S HOLIDAY WREATHS   (these are better when they are made a few days ahead)
30 large marshmallows (or 1 jar marshmallow cream)
1/2 cup butter
1 teaspoon vanilla
2 teaspoon green food color
3 1/2 cups cornflakes
Red Hots
Combine marshmallows, butter, vanilla and food color in top of double boiler. Heat and stir frequently until well blended.
Gradually stir in cornflakes until well blended.
Drop onto wax paper and arrange into wreath shapes. I plop them onto the wax paper and then push out from the center to form the wreaths.
Decorate with red hots.
Let cool.
If your house is warm – chill in refrigerator until set.
A few more favorites are: