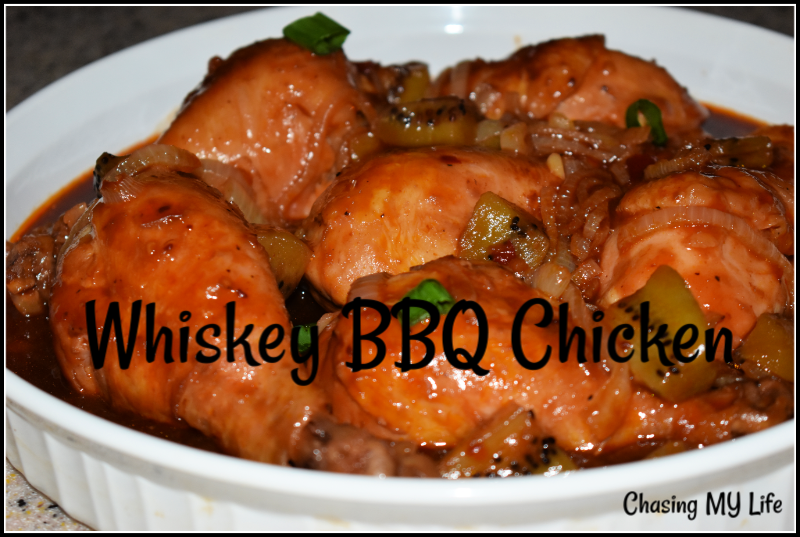 WHISKEY BBQ CHICKEN
12 chicken legs, Bone-in, Skin-on
2 tablespoons avocado Oil
2 tablespoons butter
1 Vidalia onion, halved and sliced
1-1/2 cup Seagrams Whiskey* see notes
1 1/2 cups BBQ sauce* see notes
12 ounce jar SMUCKER'S peach preserves* see notes
1/2 cup chicken broth
2 tablespoons Worcestershire sauce
4 cloves garlic, minced
4 peaches, peeled, pitted and sliced
3 green onions, thinly sliced
Preheat oven to 300°.
Heat oil and butter in a heavy pot over medium-high heat.
Add chicken legs, DO NOT CROWD THE PAN. Brown both sides 5-6 minutes, then remove to a plate and repeat until all chicken is browned.
Pour off half all but 1 tablespoon of the oil and return pan to stove.
Add onions to pan and stir, cooking for 3-4 minutes, until beginning to caramelize.
Add garlic and stir another minute or so.
Pour whiskey into the pot, careful of open flames.
Stir and scrape the bottom of the pan, allowing whiskey to reduce for a minute or two.
Pour in barbecue sauce, peach preserves, chicken broth, and Worcestershire sauce.
Return chicken to pan.
Cover and place in oven for 90 minutes.
Serve pieces of chicken over rice or mashed potatoes.
Sprinkle sliced green onions over the top.
NOTES:
I like Seagrams, just my whiskey of choice, but use whatever your favorite is.

Make your own or use your FAVORITE bottled BBQ sauce.
I prefer SMUCKER'S jams, but you can make your own or use another brand. I also use what I have on hand and sometimes that is apricot-pineapple which adds a GREAT flavor change.